The nude and barely clothed to descend on Echo Park… with bicycles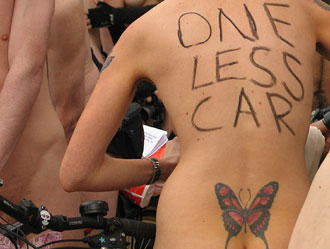 Another exciting Saturday for Echo Park tomorrow as our community hosts (unofficially, of course) the start of the World Naked Bike Ride. The idea isn't to just flash Echo Park, downtown, Silver Lake, and the other communities the ride will take the brave bicycle riders through, but to demonstrate "the vulnerability of cyclists on the road and is a protest against car culture."
And this is, you guessed it, a world-wide event, not affiliated with similar concepts like CicLAvia, and brings some very creative folks out for the ride. To participate, you aren't required to be naked – they're just happy you're helping spread the word that bicycling is much better than driving.
Yet the biggest question is, wouldn't that be… uncomfortable? You know, riding naked? The wiki page has an answer for us:
Suprisingly, for both women and men, riding naked isn't especially less comfortable than riding clothed. When riding with clothes on you're often rubbing against the seams, so in some ways naked riding is comfier! Ride routes will often be chosen with less experienced cyclists in mind, so will avoid hills and be more leisurely in pace, increasing comfort.
I think I'll pass, but it looks like it will be fun from the sidelines!
To join a ride, you have to sign up and contact the organizers directly. Check out the World Naked Bike Ride website for more details, and if you have young children and you're concerned about the extra skin being exposed … maybe avoid the area where they'll be gathering. Departure time is planned for 2:30 pm from Echo Park (click here for details).
There's also a Facebook page for the Los Angeles ride, which you can check out here.
If you missed it last year, click here for a slideshow from last year's bike ride via the LA Weekly.
https://echoparknow.com/wp-content/uploads/2020/04/EPN_Logo_600px.png
0
0
Kelly
https://echoparknow.com/wp-content/uploads/2020/04/EPN_Logo_600px.png
Kelly
2011-06-10 20:26:26
2011-06-10 20:26:26
The nude and barely clothed to descend on Echo Park… with bicycles