Echo Park Film Center back in town with new classes/events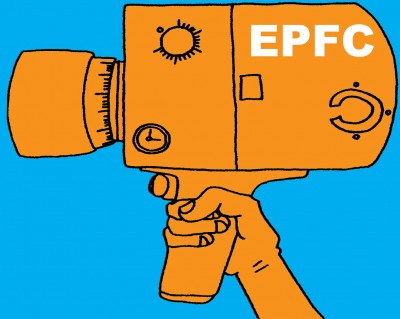 The Echo Park Film Center is back in town after its 2011 Summer Tour, during which they took the film mobile from coast to coast offering classes and workshops in dozens of cities. Now they are back with a new schedule of classes and screenings for all of Echo Park (and Los Angeles) to enjoy.
First off, Friday, September 2 is the launch party for the EPFC Audience Photographs book – a series of photos taken at every one of their film screenings and events at the Echo Park location over a couple of years (we wrote about it last December). The book has 180 pages of these color photos, which you can get for $20 (for $30 they'll give you a copy of the Sound We See DVD, the summer youth film workshop taught by EPFC Summer Artist In Residence, Merv Espina). Be there at 8:00 pm!
Upcoming Classes
All students must pre-register. Call or email for more information on participating. Space is limited.
EPFC Fall Youth Class: City of Angels
Thursdays 4:30 – 6:30 pm; September – December 2011
A 12-week after school workshop where students will learn the fundamentals of documentary filmmaking while creating individual short films celebrating family and community stories.Open to local youth ages 12 – 19; no experience necessary. All equipment and materials provided free of charge by EPFC.
Introduction  To Final Cut Pro
Saturday, September 17 from 1 – 5:00 pm
Calling all interested adults (ages 20+) looking to learn the beauty and grace of digital editing! All equipment and materials provided by EPFC. Class limited to 9 students; tuition is $60/$50 members.  Instructor: Will O'Loughlen
Introduction To Super 8 & Handprocessing
Saturday, September 24 from 12 – 5:00
This workshop includes basic camera operation, shooting techniques and hand processing. No previous filmmaking experience necessary; all equipment and materials provided by EPFC. Instructor: Rick Bahto $75/$60 EPFC members.
Screenings
Open Screen
Thursday, September 1 at 8:00 pm
Our cinematic free-for-all dares you to share your film with the feisty EPFC audience. Any genre! Any style! New, old, work-in-progress! First come, first screened; one film per filmmaker; 10-minute maximum. DVD, VHS, mini-DV, DV-CAM, Super 8, 8mm, 16mm. FILMMAKERS GET IN FREE!
Visit the Echo Park Film Center website for more scheduled events!
https://echoparknow.com/wp-content/uploads/2020/04/EPN_Logo_600px.png
0
0
Kelly
https://echoparknow.com/wp-content/uploads/2020/04/EPN_Logo_600px.png
Kelly
2011-08-31 15:46:24
2011-08-31 15:46:24
Echo Park Film Center back in town with new classes/events