An Echo Park artist's submission to the LA vs. War show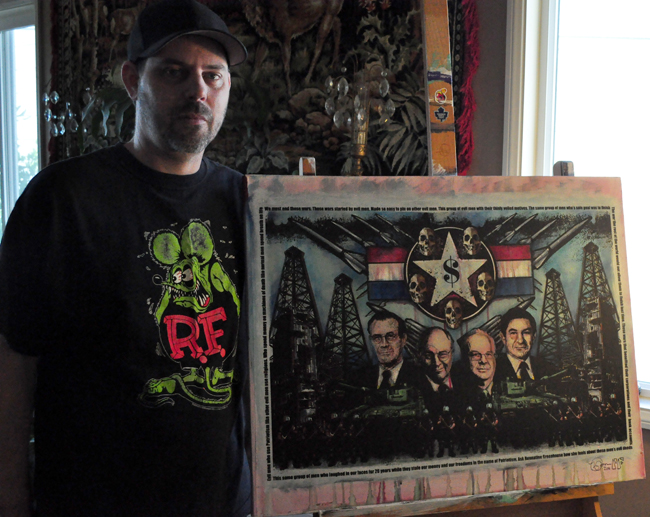 Echo Park resident Mike Fisher is a seasoned vocalist in hardcore/metal bands, a graphic designer, and multimedia artist (he's done skateboards, album covers, t-shirts, websites of course, commissioned artwork… the list goes on). Lately he's been working on a piece for the upcoming LA Vs. War show in Downtown Los Angeles, and his piece certainly fits the theme.
The theme, of course being the state of the nation – and how we as individuals are processing – in a post-9/11 world. This weekend marks 10 years since that horrific day – and one curator John Carr will never forget. Which is why he and partner Estee Ochoa started LA Vs. War in 2008 (which around 6,000 people showed up for), an exhibit of live art demonstrations, workshops, fine art, street art, and more. The show asks the question of its artists: After 10 years of the Global War on Terror, where do we now stand as a nation? Is the world a safer place? Where does the Peace movement go from here?
For Mike Fisher, his piece for the show expresses his frustration with the politicians and those in power who got us to where we are today:
I decided to participate in the show because I truly believe we were lied to about starting these current wars. I'm not even an anti war guy. I just think these wars are criminal. Started by criminals. The painting is my 10 years of frustration with the fact they essentially have ruined our country. Everyone points fingers at each other but, it's all the Bush family and their cronies that are directly to blame.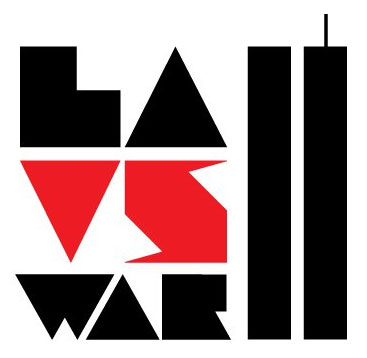 His piece is a combination of hand painting and multiple layers of silk screening. You can check out more of his artwork by visiting his website.
Mike is probably not the only Echo Park artist to submit a piece to the show (we have such a creative neighborhood!) – there is a mix of local artists along with out-of-towners, you can find a complete list on their Facebook event page.
The LA Vs. War exhibit (curated by Yo! Peace, Center for the Study of Political Graphics, Political Gridlock, and Ad Hoc Art) goes on from Friday, September 9 through the 11th from noon to midnight. The Vortex is located at 2341 E. Olympic Blvd. Entry is a $5 suggested donation.
Other cities should keep an eye out for this popular exhibit, they are hoping to expand the show to other cities under the "Vs. War" name.
https://echoparknow.com/wp-content/uploads/2020/04/EPN_Logo_600px.png
0
0
Kelly
https://echoparknow.com/wp-content/uploads/2020/04/EPN_Logo_600px.png
Kelly
2011-09-04 21:35:26
2011-09-05 11:21:12
An Echo Park artist's submission to the LA vs. War show