Must love beer: Echo Park's Sunset Beer Co. opens doors Saturday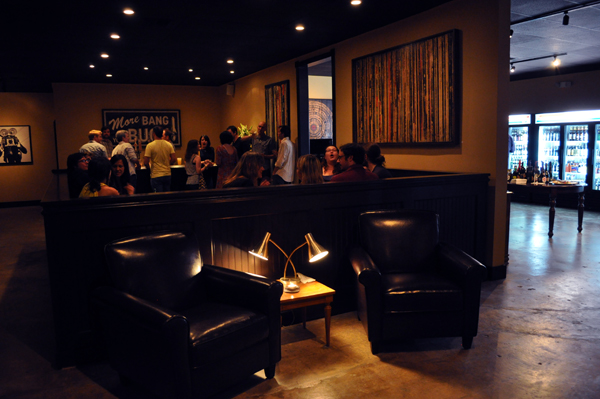 Last night we were thrilled to be a guest at the pre-opening party for Echo Park's newest addition to the neighborhood beer craze – Sunset Beer Company. It's been about a year of transformation and lots of anticipation in the 2,000 square foot space, a former ladies gym on the 1400 block of Sunset Boulevard.
Behind the labor of love: John Nugent and wife Jennifer Morgan of Colorado Wine Company, along with partners Jenna Miller-Von Ah and Drew Von Ah (also investors in Eagle Rock Brewery). Joining them is beer- and wine-lover Alex Macy as the manager – he's who you'll normally see around the shop running the day-to-days.
The shop itself, from what we can remember of last night's festivities, is warm and minimalist. Treated concrete floors, candles, eclectic art hanging on the walls, and dark leather arm chairs give it a library meets beer meets romance atmosphere. It's certainly not a liquor store or your average beer store, and the tasting area offers plenty of time to lounge, sip, people watch, and chat with your new friends seated nearby. Designer Rick Crane will take credit for the design of the store, as well as nearby Colorado Wine Company. In the Sunset Beer Company press release, they wanted "an environment for beer that doesn't feel stuffy but also takes the idea of beer and beer appreciation seriously." We think they accomplished that!
What's best about these types of events is getting to rub elbows with fellow uber-bloggers and writers like Caroline on Crack, Jessica Gelt from the LA Times, and LAist editor Lindsay William-Ross. We also had a nice long chat with Rebecca Johnson and Jeff Klarins of Bughouse, whose art decorates the walls and even bathrooms of the new Sunset Beer Co. diggs (we talked little of the artwork itself with the exception of some of the pretty cool UFO pieces she created, which you must see in person).
There are a few refrigerators lining one wall, which we were told are just the beginning as they've left room in the whole space for more (1,000 bottles is the goal). Last year, Nugent told us to expect everything from Unibroue Blanche de Chambly (a Belgian-style white ale from Canada) for $2.50, all the way to the fancy schmancy (and $22 a bottle) Russian River Consecration for those special occasions. Though there weren't yet price tags on those bottles last night, manager Alex says they want to be competitively priced while offering high quality beer. It will be nice to not have to drive all the way to Cap 'n Cork in Silver Lake, or 55 Degree Wine in Atwater Village (although we're there often anyways) for the bottles if you're staying in the 'hood.
They will also offer some boutique wine and sake, along with beer of the month clubs, guest brewers, chef tastings, and other pairing and food events in the future.
Which brings us to the tasting part: They hope to keep the price of beers on tap to $6 and under. Last night we sampled some great stout, a Telegraph seasonal, and… something else. Just know, it was good!
Check out our photos from last night's adventures, and clear your calendar tomorrow for their soft opening (a grand opening is expected to happen October 15, details TBA).
Sunset Beer Co. is located at 1498 Sunset Boulevard, #3


Get the flash player here: http://www.adobe.com/flashplayer
Related articles:
Sunset Beer Opening in Echo Park. Echo Park Now, September 10, 2010.
Storefront Report: Sunset Beer offers you a place to sit and sip. The Eastsider LA, September 16, 2011.
https://echoparknow.com/wp-content/uploads/2020/04/EPN_Logo_600px.png
0
0
Kelly
https://echoparknow.com/wp-content/uploads/2020/04/EPN_Logo_600px.png
Kelly
2011-09-16 15:25:01
2011-09-16 15:25:01
Must love beer: Echo Park's Sunset Beer Co. opens doors Saturday