Along Glendale Blvd.: A thriving world of art you'd never know existed
This weekend, the community along with the Echo Park Improvement Association (which I am a member of) will start a major cleanup of Glendale Boulevard, an almost blighted entryway to our beautiful Echo Park neighborhood. Throughout the planning process, we've been slowly discovering these amazing businesses located along the thoroughfare that you would honestly never know existed. Forget the recycling centers, empty lots, and graffiti-covered buildings. Here we are lucky to have places like La Fonderie located in Keystone Studios, an exciting world of LA's best artists inside a huge brick building on Glendale Boulevard.
You probably recognize the building on Glendale Boulevard by the big graffiti/mural by JR (now infamous in Echo Park). But I got the idea for this article from friend, real estate agent, and EPIA chairperson Darren Hubert. He and Josh Post – the Echo Park resident who started and organized the Glendale Boulevard cleanup – visited as many businesses as possible one day, hoping to encourage everyone to contribute to the day of cleanup. Granted, I had read about the art space in a The Eastsider LA article when it first opened in June of 2009, but I really had no idea what was really going on these days.
Get the flash player here: http://www.adobe.com/flashplayer
Sculpture artist Danny Serfaty and designer/director Melanie Mandl have partnered up under the name Keystone Fine Art Studios – after the historic Mack Sennett  film studio that once stood in Echo Park, then Edendale, which stood at here and also included what is now Thriftee Storage. Just a couple of years ago, they (Christopher Slatoff was also there from the beginning) were just renting the space from the building owner when they decided to put in a huge amount of personal money into the enormous space, which was at one point supposed to be developed into 28 live-work artists condos. The developers backed out, and the location remained vacant for long enough that it really started to fray at the seams – holes dotted the ceiling, rodents were rampant, and the inside had become a homeless encampment.
With a little help from the neighbors who kept an eye out (and still do – they even helped with painting), Danny and Melanie built out the building to include a total of 12 art studios – installing all the electrical from scratch (there wasn't any before) and building up walls to reach the 12-foot-high ceilings for each studio. Though it's been about a year and a half since opening its doors for artists to rent the space, it still smells like fresh sawdust.
It feels almost extraordinary to be walking around La Fonderie and all the studios. Taking note of the artists and all the work actually involved in the space is quite remarkable, even when you're not familiar with the historic and current art culture in this city. It's especially fascinating walking in on artists like Hector Calderon, otherwise known as the infamous Shandu One, while he works on a sculpture. In fact, most of the art covering the walls inside and outside the building were made by artists who play a vital role in graffiti art in Los Angeles. If you missed the MOCA show Art in the Streets this year, you'll find a lot of those artist's work on the walls of the building.
You may have also heard about LA Fonderie from its work with at-risk youth. For instance, they were directly involved in the city's Gun Buy-Back day around Mother's Day weekend, where individuals could trade in a gun (no questions asked) for a hefty gift certificate like Ralphs. The Violence Prevention Coalition of Greater Los Angeles (VPCGLA), LA Fonderie and youth volunteers took the guns, melted them down, and turned them into art projects like the actual, physical award for Lin Evola's Peace Angels Project.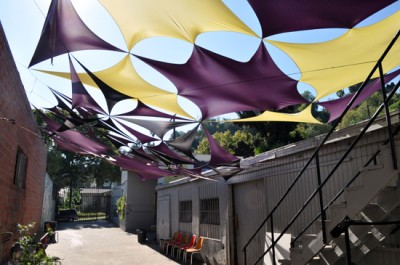 UCLA paid for the at-risk youth to spend time at the studio, melting down the guns to create the award itself. In addition to learning about art, the process (and even the cleanup), they gave the award to Connie Rice of the Advancement Project.
It's this kind of work – as well as just being a really inspiring place overall – that gives Keystone and La Fonderie a two thumbs up, even if you think it's gentrifying (oh no, the "g" word!). Danny is fascinated with gentrification and feels passionate about it. "Gentrification," he said, "doesn't' have to mean displacement of people or destruction of existing, it can be used and rehabilitated… and as artists that's what we do, to create our own space."
For business partner Melanie (who's many talents include stop-motion design), she was frustrated with finding art space only in downtown or the valley, but knows how hard it is to do your work outside of your home. I got the sense that they really understand there's a cost, and it's a luxury for most artists, but that it's inspiring and important to be surrounded by art and artists in a supportive community.
Which is why, with the blessing and partnership of new building owners, they are expanding into the adjacent/attached structure on the north side of the built-out studios – currently just some dusty scaffolding, but they have a vision. They'll add to the already 12 studios they've got and will open the doors for artists to apply for occupancy. Hoping to start construction soon, they'll be hammering away while there's also a condo complex being built next door on the former Bertco property (we're hoping for a silent film studio on that lot to pay homage to the long Edendale history).
What I think I like the most about La Fonderie is a genuine sense of excitement and creativity. It's less important what it costs to have a studio compared to other venues, or what gentrification means to the neighborhood, or if they should be building artists studios or whatnot. What we've learned about Echo Park and the businesses or the residents that occupy it, is that most of the time we've got a really unique community where art thrives and people contribute positively to the community. In addition to his work with at-risk youth, you'll see Danny and other artists with us on Saturday, November 5 as we work hard to clean up Glendale Boulevard!
For more information about the space, visit the La Fonderie and Keystone websites.
https://echoparknow.com/wp-content/uploads/2020/04/EPN_Logo_600px.png
0
0
Kelly
https://echoparknow.com/wp-content/uploads/2020/04/EPN_Logo_600px.png
Kelly
2011-11-03 18:21:56
2011-11-03 18:21:56
Along Glendale Blvd.: A thriving world of art you'd never know existed