Echo Park Community Parade on Saturday!

It's time for the annual Echo Park Community Parade! The parade takes place on Saturday, December 10, and starts at 10:00 am (ending at about 1:00 pm) and goes along Sunset Boulevard in Echo Park, starting at Elysian Park Avenue and ending at Park Avenue.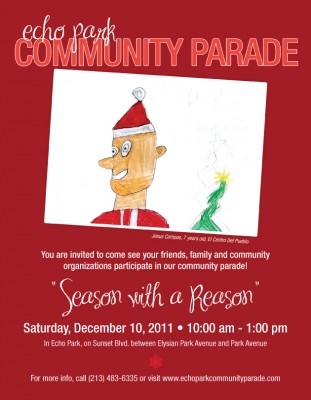 This year's theme is "'Tis the Season." Each year, young students from the area participant in art contests held at different venues such as the Central City Action Committee (CCAC) and the Echo Park Farmers' Market, and a panel of judges chooses three winners from varying age groups to have their artwork displayed on the parade flyer, poster and banner. So keep your eye for all the different contributions from area students on these pieces!
In addition to local schools, drill teams, cheer squads, and elected officials, we've got a few Echo Park businesses and organizations participating in the parade lineup. Amongst those are The Echo Park Time Bank, Edendale Library Friends Society (ELFS), The Warehouse & The Classroom, Mi Alma, 826LA, and more!
We know that Mi Alma will be bringing in a lot of color to the parade with a piñata-themed float. And The Warehouse LA/The Classroom LA will be sporting a nice big trailer with a live jazz singer and back up dancers. And of course there will be Santa!
Also in the parade lineup, Mitch O'Farrell from Eric Garcetti's Office is this year's Grand Marshal. Parade Ambassadors include Holly Calhoun of the Echo Park Farmers' Market, the Echo Park Improvement Association, Masa of Echo Park Bakery & Café, and Albert Torres of Recreation & Parks.
You might find us sipping mimosas at either The Park Restaurant at Douglas and Sunset, which has a reallllly pretty brand new look to the patio, or keeping a seat warm at Lot 1 Cafe drinking mimosas, where they'll also be offering hot chocolate and cinnabons.
After the parade, be sure to support your local businesses and shop local! The annual holiday Echo Park Shop Hop is going on, as well as lots of holiday parties at Mi Alma, Tavin, and more!
And lastly my shameless plug: We are so excited to be participating a little bit this year by designing all the new graphics for the flyer, parade program, and all those festive, red posters in the windows around town (hey, it's our day job!).
https://echoparknow.com/wp-content/uploads/2020/04/EPN_Logo_600px.png
0
0
Kelly
https://echoparknow.com/wp-content/uploads/2020/04/EPN_Logo_600px.png
Kelly
2011-12-08 12:58:25
2011-12-09 10:05:59
Echo Park Community Parade on Saturday!