Livin' La Pizza Loca no more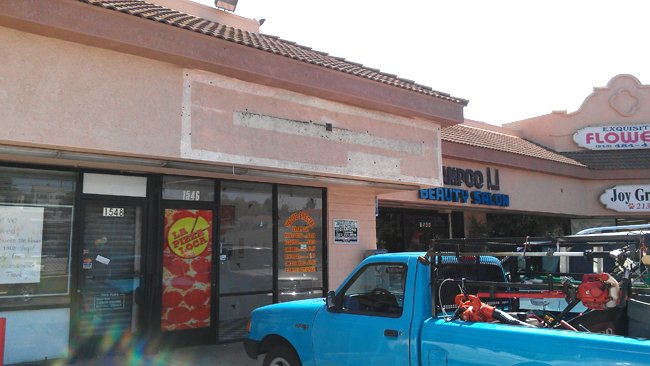 When we first moved to Echo Park, the only restaurant that would deliver to our sketchy apartment complex was La Pizza Loca. We were a little loca to eat the barely digestible pizza, but was at one point the cheapest meal in town.
This weekend the Glendale Boulevard pizzeria at Berkeley Avenue closed its doors for good – the sign is gone, and some window graphics remain, but a call to the old number and you'll be redirected to another location.
It's not the first place to close down in the strip mall – there was once a Cash Express storefront, a flower/bike/tobacco kiosk, and a Dog Grooming business. It might be a sign that the storefronts are being squeezed out as the strip mall prepares for a 7-11 to open up, which was approved last October by the neighborhood council and is undergoing review by the city for a beer and wine license.
The 7-11 plans include making improvements to the whole strip mall (cleaning up the parking lot, removing the old, ugly wall, improving signage), and thus the strip mall owner may be able to ask for higher rent. We'll see if the Tacos Mexico and the other remaining tenants can stick it out, or if we're looking at a high-end makeover on Glendale Boulevard and Berkeley.
https://echoparknow.com/wp-content/uploads/2020/04/EPN_Logo_600px.png
0
0
Kelly
https://echoparknow.com/wp-content/uploads/2020/04/EPN_Logo_600px.png
Kelly
2012-03-25 15:17:17
2012-03-25 15:17:17
Livin' La Pizza Loca no more