Sunset Beer Company debuts beer mirror slash "mascot"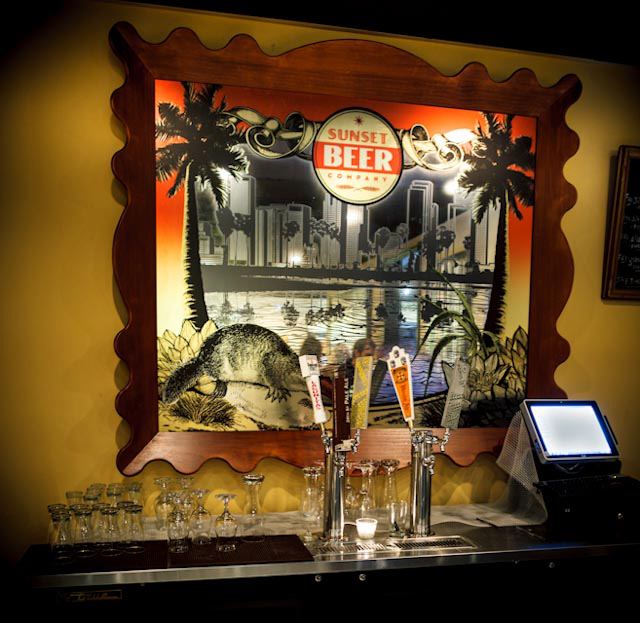 Sunset Beer has some new artwork on the walls – mainly a vintage-looking, awesome beer mirror behind the taps. The new installation serves as both a kickass piece of artwork on the walls as well as the bar's new mascot – they've even named it "Platy:"
Bud has their Clydesdales on a hill. Miller, some snow covered wolves on a bluff. And so, may we introduce: Platy – the Sunset Beer Company beer mirror.
Designed by Rebecca Johnson and Jeff Klarin of Bughouse Design, Platy hangs amidst other pieces of art by the creative duo. It features Echo Park Lake (before the construction, obviously), a platypus (which are not native to the lake, but hey, they needed a mascot!), and the downtown skyline emerging from the distance.
Why all the fuss about a new piece of artwork in a beer bar?
Why, the party of course! They'll be celebrating the debut of Platy on Saturday, April 7 from 6-8:00 pm, with half off draft beers and munchies.
Please RSVP on the Facebook page, to 213-481-BEER email info@sunsetbeerco.com if you want to join in on the festivities. See you there!
https://echoparknow.com/wp-content/uploads/2020/04/EPN_Logo_600px.png
0
0
Kelly
https://echoparknow.com/wp-content/uploads/2020/04/EPN_Logo_600px.png
Kelly
2012-04-05 17:13:54
2012-04-05 17:26:02
Sunset Beer Company debuts beer mirror slash "mascot"