Bobbleheads and blankets: 2012 Dodgers promo schedule
Opening Day is upon us, make sure you mark your calendars and take advantage of the goody give-aways for kids and adults! We've definitely got our share of Dodger gear – the "sleeved fleece," blankets, bobble heads, and more!
Friday Night Fireworks are also back – so every home game on a Friday there will be fireworks for everyone to enjoy (we have a super secret spot near our house where we watch the show!). There will also be fireworks for the 4th of July celebration.
Opening Day / 50th Anniversary of Dodger Stadium
Tuesday, April 10 at 1:10 pm vs. The Pirates
Clayton Kershaw Cy Young Replica (Cy Young Award Presentation)
Wednesday, April 11 at 7:10 pm vs. The Pirates
Dodger Stadium Replica
Saturday, April 14 at 6:10 pm vs. The Padres
Kids Jackie Robinson Sweatbands
Sunday, April 15 at 1:10 pm vs. The Padres
Also: Kids Run the Bases, Viva Los Dodgers
Sleeved Blanket
Tuesday, April 24 at 7:10 pm vs. The Braves
Bobblehead #1: Don Drysdale and Maury Wills
Saturday, April 28 at 6:10 pm vs. The Nationals
Kids Clayton Kershaw Replica Jersey
Sunday, April 29 at 1:10 pm vs. The Nationals
Also: Kids Run the Bases, Viva Los Dodgers
Cooler Bag
Monday, May 7 at 7:10 pm vs. Giants
Mother's Day Tote Bag
Sunday, May 13 at 1:10 pm vs. The Rockies
Also: Mother's Day Walk Around the Park
Bobblehead #2: Orel Hershiser
Tuesday, May 15 at 7:10 pm vs. The D-backs
Dodger Stadium 50th Anniversary FanFest
Saturday, May 19 at 7:10 pm vs. The Cardinals
Kids Power Necklace
Sunday, May 20 at 5:00 pm vs. The Cardinals
Also: Viva Los Dodgers
Natural Balance Bark in the Park
Saturday, May 26 at 7:10 pm vs. The Astros
Kids Run the Bases, Viva Los Dodgers
Sunday, May 27 at 1:10 pm vs. The Astros
$1 Dodger Dogs
Monday, May 28 at 5:10 pm vs. The Brewers
Bobblehead #3: "The Infield"
Tuesday, May 29 at 7:10 pm vs. The Brewers
Dodger T-Shirt
Monday, June 11 at 7:10 pm vs. The Angels
Bobblehead #4: Mike Scioscia
Tuesday, June 12 at 7:10 pm vs. Angels
Friday Night Fireworks
Friday, June 15 at 7:10 pm vs. White Sox
Father's Day Sports Bag
Sunday, June 17 at 1:10 pm vs. White Sox
Also: Father's Day Catch, Viva Los Dodgers
Bobblehead #5: Eric Karros
Thursday, June 28 at 7:10 pm vs. Mets
On-Field Photo Day
Saturday, June 30 at 4:15 pm vs. Mets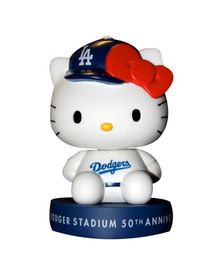 Hello Kitty Mini Bobblehead
Sunday, July 1 at TBD vs. Mets
Also: Kids Run the Bases, Viva Los Dodgers
Dodger Stadium 50th Anniversary LA Cap
Tuesday, July 3 at 7:10 pm vs. Reds
4th of July Fireworks
Wednesday, July 4 at 6:10 pm vs. Reds
Bobblehead #6: Tommy Lasorda and Walter Alston
Saturday, July 14 at 6:10 pm vs. Padres
MLB Network Drawstring Bag
Sunday, July 15 at 1:10 pm vs. Padres
Also: Kids Run the Bases, Viva Los Dodgers
Beach Chair
Tuesday, July 17 at 7:10 pm vs. Phillies
Bobblehead #7: Kirk Gibson
Tuesday, July 31 at 7:10 pm vs. D-backs
Snapback Cap
Sunday, August 5 at TBD vs. Cubs
Also: Kids Run the Bases, Viva Los Dodgers
Bobblehead #8: Sandy Koufax
Tuesday, August 7 at 7:10 pm vs. Rockies
Bobblehead #9: Fernando Valenzuela
Tuesday, August 21 at 7:10 pm vs. Giants
Kids Back to School Backpack
Sunday, August 26 at 1:10 pm vs. Marlins
Also: Kids Run the Bases, Viva Los Dodgers
Bobblehead #10: Vin Scully
Thursday, August 30 at 7:10 pm vs. D-backs
Kids Run the Bases, Viva Los Dodgers
Sunday, September 2 at 5:10 pm vs. D-backs
$1 Dodger Dogs
Monday, September 3 at 5:10 pm vs. Padres
Matt Kemp Replica Jersey
Tuesday, September 4 at 7:10 pm vs. Padres
Fleece Blanket
Thursday, September 13 at 7:10 pm vs. Cardinals
Kids Run the Bases, Viva Los Dodgers
Sunday, September 16 at TBD vs. Cardinals
La Gran Fiesta – Viva Los Dodgers
Saturday, September 29 at TBD vs. Rockies
Fan Appreciation Day, Kids Run the Bases
Sunday, September 30 at 1:10 pm vs. Rockies
Dodger Giveaway Night
Tuesday, October 2 at 7:10 pm vs. Giants
https://echoparknow.com/wp-content/uploads/2020/04/EPN_Logo_600px.png
0
0
Kelly
https://echoparknow.com/wp-content/uploads/2020/04/EPN_Logo_600px.png
Kelly
2012-04-09 14:45:55
2012-04-09 16:43:54
Bobbleheads and blankets: 2012 Dodgers promo schedule