Echo Park Art Walk tomorrow!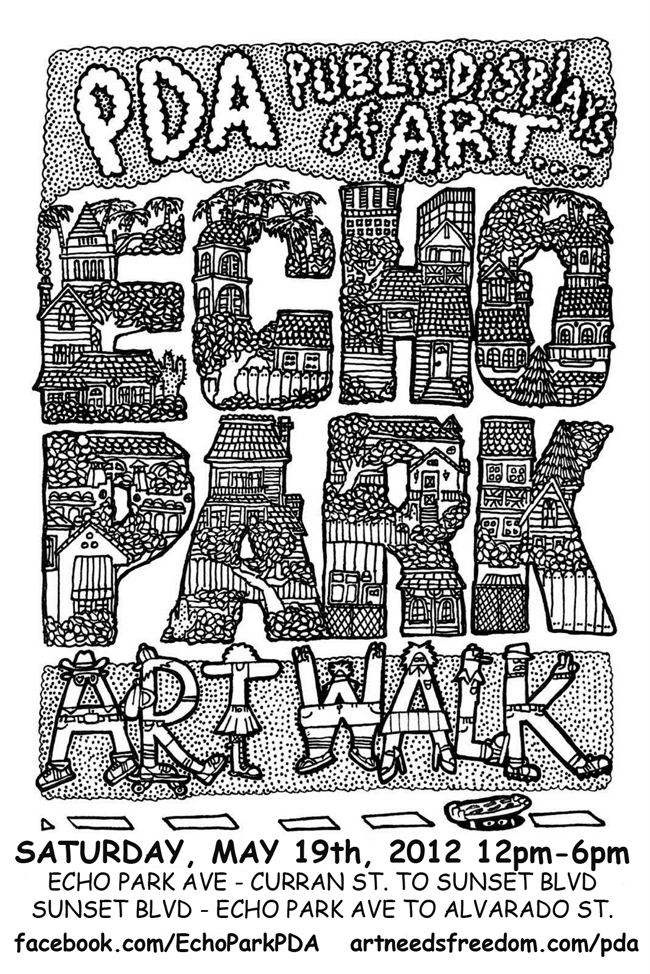 Guess what you're doing on Saturday? It's the annual Echo Park Art Walk!
Click here to download the map!
Maps will also be provided at participating vendor locations. And you'll need one as this seems like it's the biggest one yet – there are over 70 participating vendors and businesses up Echo Park Avenue, Glendale Boulevard and along Sunset Boulevard. Activities (apart from shopping and discounts) include Art Chalk, live bands, food trucks, art shows, live art, and more art! Be sure to mention "Echo Park Art Walk" to receive discounts at participating businesses.
After the jump – check out the list of the over 70 participating vendors (may or may not include some recent additions or updated events).
Anejo Duddery – 1832 W Sunset Blvd
Live Music by The Terrorists, Dirty Bandits, Bird Mad Girl, Mas o Menos & Outlast the Reset.  Enjoy 30% OFF all Vintage clothing!
Allston Yacht Club
Extended Happy Hour on Saturday.
Art Chalk – Sidewalks of the Art Walk
Josh Grelock, Matthew Hodges, Ray Vargas, Cody Lusby and Kilby Rodell
Art Needs Freedom – Traveling the sidewalks
Sidewalk "flash mob" Fashion Show in various places and spaces. Will have Echo Park Art Walk T-shirts for sale and 20% OFF original Hair Accessories & Zipper NeckLaces!
Backside – 1814 W Sunset Blvd
Showcasing Artist & Muralist David Flores & the Band Mother of Gut playing at 7pm.
Ballard's Artwork Framing – 1568 Sunset Blvd
Oil Paintings on Canvas & Pen Drawings by Ramsey Robinson.
The Beauty Box – 1498 W Sunset Blvd  #5
Mention "Artwalk" to receive 10% off all products.  Featuring the works of long time Echo Park resident Bill Rangel.
The Big Parade
2pm Meet at Elysian Heights Elementary School (NW corner of Baxter/Echo Park Avenue). Led by Dan Koeppel.  Day 1, May 19: Join this Adventure starting at the famous Angel's Flight Stairway and finishing at the Hollywood Sign above Beachwood Canyon.  See art and climb stairs, a five mile loop that includes 20 public stairways, along with visits to the neighborhood's historic art landmarks, including the former cabin residences of pioneering Echo Park artists Paul Landacre and Edward Middleton Manigault, who literally died to preserve the purity of his work.  You will be able to come and go as you please, so there are options with fewer stairways and as short as one mile.  Day 2, May 20: Start at the famous music Music Box Stairs – site of the Oscar-winning Laurel & Hardy film of the same name – in Silverlake.
BlueCollar Working Dog – 1533 Echo Park Ave
*Art CHalk Site and other works.  Mention "echo park art walk" to receive 15% off (except food)
The Brite Spot – 1918 W Sunset Blvd
Echo Park's original diner. 1/2 off ALL signature desserts on 5/19 from Noon-6pm.
City Sip – 2150 W Sunset Blvd
Featuring the artwork of John Skalicky in our ART FOR THE PEOPLE series.  John, a native Los Angeleno, is well known for his photography.  The current show is a slight departure from his photography and features whimsical chalk drawings of people….sure to make you chuckle!  Come by for a glass of wine and be amused!  10% off all artwork the night of ART WALK!
Chahin Travel – 1825 Echo Park Ave. Ste B
The Fluff Ice Truck, photography by Feeding Birds, free travel pamphlets & treats! *Art CHalk Site!!!
Chango – 1559 Echo Park Ave
Swing by and check out new mural inside and out by Muralist Axis, Photography by Peter Castagnetti and Paintings by Michael Spitaletto.
The Classroom LA – 1269 W Sunset Blvd
deKor – 2145 W Sunset Blvd
Scandinavian textile art, vintage pieces, custom furniture. Come by for wine, cheese. and 10% off ALL ART
Delilah Bakery – 1665 Echo Park Ave
The Echo Park Historical Society showcases a Photo Gallery of Echo Park.
The Dogshow – 1930 Echo Park Ave
Bikini boutique hosts dog wash! Get your pooch pampered by some totally rad babes in the latest bikini wear.
Dove Dove Studios – 1589 Curran St
Fine Art Exhibit, Music, Performance Art, leather bags and jewelry.  Works by The Chelsea Royal, Marc Herron, Rafe Pearlman, Stephanie Danielson, Shawnda DiCaprio and others.
Downbeat Cafe – 1202 N Alvarado St
Live art painting by Ernesto Vazquez, Evillustrations & The Art of Mario Lopez.
Driftwood – 1505 1/2 Echo Park Ave
Driveway Art Gallery – 1827 Echo Park Ave
Clothing, Jewelry and Art exhibit by Artists Patti Astor, DJ Skyler and Jmoguldesigns
Echo Gardens & Nursery – 1901 Echo Park Ave
Grand opening! Family run community nursery. Affordable variety of rare flowers, herbs, and fruit trees. Succulent specialty. Gifts and gardening supplies. Open 7 days a week, 8am-8pm.
Echo Park Film Center – 1200 N Alvarado St
Daytime Works by Kate Lain, Rick Bahto, Cosmo Segurson, INSTEREO (Ursula Brookbank & Christine Alicino), Margie Schnibbe, John Palmer.  8pm screening: Walter Vargas, Andrew Kim, Marisa Williamson, Jackson McCoy, Silvia das Fadas, Calvin Fredrick, Ryan Betschart, John Warren, Mike Stoltz, Eve LaFountain.
Echo Park Market – 1940 Echo Park Ave
Art CHalk Site.
Echo Park Pottery – 1850 Echo Park Ave
Ceramics, Sculpture & Painting by Peter Shire.
The Echo Park Time Travel Mart (826LA) – 1714 W Sunset Blvd
Creating an interactive TIMELINE ART PROJECT in the lab! 3-7pm Wise Guys Events presents a time-traveling, clue-chasing, challenge-crushing afternoon to benefit the 826LA tutoring center. Get tickets here.
Ecos Gallery – 1529 W Sunset Blvd
Art Works by Colin Ambulance, Danny Bobbe, Amanda Frances & Nora Keyes.
El Clasico Tattoo & Art – 1610 W Sunset Blvd
Elf – 2135 W Sunset Blvd
Traditional Indian Concert featuring Evan Haros on Sitar and Brian Chan on Tabla.
Elysian Heights Elementary – Corner of Echo Park Ave & Baxter
*Art CHalk Site!  Chain Link Fence Art Gallery of Student Art Works, 2-4pm $5 Face Painting by Liz Villamarin, Food & Bake Sale and Festivities hosted by Friends of Elysian Heights Elementary School a Project of Community Partners. All proceeds go towards supporting the expansion of after school enrichment classes!
The Episcopal Church – 840 Echo Park Ave
The Congregation of St. Athanasius serving Los Angeles since 1864. 10am-2pm Bookstore Open, 2-5pm Art Walk Exhibit, 4:-00 pm Community Concert.
Feeding Birds Boutique – 1825 Echo Park Ave Ste A
Official location for Echo Park Art Walk Print Tees & Totes!  "Echo Park Robots" print series & crochet crafts by Tiara Robertson, "Rocking Eye" screen printed wears by Mel Baker, photography by Feeding Birds, Calbi BBQ Truck, *Art CHalk Site and LIVE MUSIC line up with Xenia Dunford, Angelo Lovato, Miles Moore & Sons of August!!!
Fix Coffee –  2100 Echo Park Ave
Artworks by Ingrid Allen, Uyen Vi Tran, Courtney Arwin, Molly Moore, Margot Stokol, Dan Mailley plus LIVE MUSIC, YELP, 12-4pm CHAKWAVE Organic Juices & The MANDOLINE GRILL FOOD TRUCK!
Flounce Vintage – 1555 Echo Park Ave
Tarot Reader, Erin Smith and Vegan Cupcakes by Clara's Cakes! Great Vintage Finds for 10% OFF!
Folklore Salon – 1102 Mohawk St
Pre-book to receive 20% off any service. Photography exhibit by Susan Vasconcelos.
The Hedgehog – 2201 W Sunset Blvd.
New vegan/ vegetarian neighborhood cafe. Live music by Modpods at 5pm. 10% off for EP locals (90026).
Hotel de Ville Lifestyle – 1932 Echo Park Ave
1 Year Anniversary! Vertical garden sale & art opening feat. Haley Ann Robinson.
The House of Spirits – 1314 Echo Park Ave.
i&i sOUND sYSTEM – 1546 Echo Park Ave
Serving up some musical treats!
K9 Loft  – 2171 W. Sunset Bl.
Day care, grooming, boarding, and pet supplies.
Kellygreen Home – 2149 W. Sunset Blvd.
Green Lifestyle Boutique that has a wide array of environmentally friendly homegoods that are "high design, low impact". Come in and mention this at the register and receive a 10% discount.
Keystone Fine Art Studios – 1755 Glendale Blvd 90026 (entrance on Aaron st. around back)
HOP to the LAST STOP!  Starting at 5pm Enjoy Music, Refreshments & Artworks by Melanie Mandl (Painting, sculpture, Video), Molten Metal Works (sculpture), Dean Styers (painting), Jesse Vogel (painting), Amy Musket (painting, drawing), Danny Perez (video Installation), Dallas Ryder (painting), Krista Machovina (painting), Luke Whitlatch (painting), Chris Slatoff (sculpture) and more…!!!  Not to be missed!
Kiang Giang Bakery – 1471 Echo Park Ave.
Pastries and sandwiches made daily!  *Art CHalk Site and Pop-Up Art and Live Art Works!
King's Cleaners – 2103 W. Sunset Blvd
La Guadalupana Market – 1624 W Sunset Blvd
Lot 1 Cafe – 1533 W Sunset Blvd.
Serving beer specials and outside dining and drinking!
Luxe de Ville – 2157 Sunset Blvd.
A boutique that features local and not so local jewelry designers and a mix collection of vintage, new & designer clothing for men and women. Featuring artist Saint Virgin Peter. Noon-7.
Maja Art – 2174 Echo Park Ave
Cultural Arts and Crafts by Artist MAJA
Masa of Echo Park – 1800 West Sunset Blvd
Mention Artwalk to receive 10% off (excludes alcohol). Acrylic on canvas by Jeremy Szuder.
Mi Alma Design Studio – 1615 Avalon St
Year Anniversary!  Mama Pepi's homemade chips & salsa. Design workshops and an eclectic mix of art, custom lighting, water color, oil Paintings and Garden art works by Charles Marder, Hector Diaz, Crystal Hardison, Sydney Smith and Gloria Root. 5pm Dance performance by Beatriz Vasquez of 3-19 Dance Art
Mishka – 1547 Echo Park Ave
Photography by Rick Rodney
Miss Vegucation – at The Dogshow 1930 Echo Park Ave
12-3pm Get Bikini Season ready with Kacy Franzen Holistic Health Coaching for those interested in Vegan, Vegetarian, or a more Veggie-friendly way of life!
Mohawk Bend – 2141 W Sunset Blvd
12noon – 1:00 pm visual, multimedia, interactive art by Ger Ger
1:00 pm – 2:30 pm Spirit Lake
2:30 pm – 4:00 pm How I got Lost
4:00 pm – 5:00 pm We're Getting On
5:00 pm – 6:00 pm 5 Second Films
Myrtle – 2213 W Sunset Blvd
Echo Park boutique featuring independent female designers!
Nahui Ohlin – 1511 W Sunset Blvd
North & South American Indigenous art aka Mayan, Aztec and Native American inspired Screen printed artworks by Votan Henriquez.
Neighborhood Salon – 1838 Echo Park Ave.
Yarn portraits by Brandy Lynn & Paul…Handmade mugs by Echo Park Pottery. Stop by to get 20% off.
Origami Vinyl – 1816 W Sunset Blvd
Artist Owleyes and live music by Alexandra & The Starlight Band
The Park Restaurant – 1400 W Sunset Blvd
Neighborhood bistro. Saturday brunch 10am -2pm; Dinner at 5:30.  BAR OPEN during Art Walk $1 off all beer/ wine by the glass 12 to 6pm! Works by local artists for sale.
PETA – 2154 W Sunset Blvd – The Bob Barker Building
Flyers, pamphlets, magazines, stickers, buttons, smiles!
Pilates & Arts – 1844 Echo Park Avenue
The unveiling of the new additional space and showcasing Artworks by Katsu Yokoyama, Chris Rusch, Meryl Marshall-Daniels, Janet Grey, Kristin Brin, Patrick Haemmerlein, Wilma Kobrinsky, Reid DeFever, Avonal Jones and Sue Blanchard.  Also, stop by for a FREE chair massage!
Rewind Audio – 1041 N Alvarado St
Located just south of Sunset on Alvarado Street, Rewind Audio offers affordable Audio Electronics, Used Vinyl, and Instruments from the 1970's-1990's. If you are looking for Quality Turntables, Vintage Receivers and Speakers, we have a strong selection for you to choose from, with an inventory that is constantly changing.  Come and enjoy Live Music! Mention Artwalk to receive 10% off.
Sancho – 1549 W Sunset Blvd
In collaboration with Sunday's Best: A Not Ugly wearable fine art collection by Dani Collins. We are casting models for our Not Ugly 2012 fine art line featuring new collaborations with Digital Aspergers, Peter Frankenstien, and John Tottenham. Music by KCRW'S Mario Cotto and DJ Fly. The gallery features visual works by Thomas Cannon, Sandra Maya, Robert Centrone, Michael Rascon, Gregorio Adam Davila, Sean P. Lambert, Ryan Wade and Sigifredo Torres. Post art walk concert with Skyline Electric, Amy Denio and Emily Hay from 8-10p.
Spitfire Girl – 2203 W Sunset Blvd
Fine Art Exhibit by Kristin Schroder, Jason Schroder and others!
Store 1933 – 1933 Echo Park Ave
Paper installation by Patssi Valdez and Karen Frid. Home accessories by Bikasa Designs. Furniture by Laurence A. Object and edition prints Patssi Valdez.
Stories Books & Cafe – 1716 W Sunset Blvd
Art opening reception for Tara Tavi plus music performances from Son Ark and Geronimo Getty. 4pm Poetry by Mary Campos!
Sunday's Best Thrift Apparel – 1547 W Sunset Blvd
In collaboration with Sancho: A Not Ugly wearable fine art collection by Dani Collins. Music by KCRW'S Mario Cotto and DJ Fly. The Sancho Gallery features visual works by Thomas Cannon, Sandra Maya, Robert Centrone, Michael Rascon, Gregorio Adam Davila, Sean P. Lambert, Ryan Wade and Sigifredo Torres. Sunday's Best Thrift Apparel will feature art by Adriana Ortega. Post art walk concert with Skyline Electric, Amy Denio and Emily Hay from 8-10p.
Sunset Beer Company – 1498 W Sunset Blvd #3
The Dosa Truck and Fine Art Exhibit by Jeff Klarin and Rebecca Johnson of Bughouse.
Sunset Auto Spa – 2028 W. Sunset Bl.
Live Mariachi Band
Tavin Boutique – 1543 Echo Park Ave
Art Works by Kerry Regan and Anne Schwartz.
Taxi Cdc – 2148 W Sunset Blvd
"eye of judgment"  Collaged Boxes with found objects by Bailey Li, "No I don't f*@#ing Facebook"  Multimedia Collage by Rae Vavra and redesigned vintage accessories from Dela Luna Designs. In store special 20 % OFF!
Villainy General Store – 1519 W Sunset Blvd
eEvil Ink Designs Silkscreening and more!
The Warehouse LA – 1197 W Sunset Blvd
Local artists' work, refreshments, snacks and music!
Wells Antiques – 2162 W. Sunset Bl.
Giant moving sale! Lowest prices in 20 years! Specializing in antique tile and pottery.
Xoia – 1801 W Sunset Blvd
XL3 Vintage Clothing – 2146 W. Sunset Bl.
Yogala – 1840 Echo Park Ave
Find Echo Park Patch and Handmade Heirloom Quilts by Pauline Boyd, Paintings by Rafe Pearlman and Dream Catchers by Nicole Torres.
Food Trucks:
Calbi Truck – Fushion Tacos & Burriotos at Feeding Birds
ChakWave – Organic Juices at FIX Cofffe
Dosa Truck – South Indian with a California Twist at Sunset Beer Co.
Fluff Ice Truck – Shaved Iced at Chahin Travel
Mandoline Grill Truck – Vietnamese Cuisine at FIX Coffee
Art CHalk Sites:
Blue Collar Working Dog
Chahin Travel
Echo Park Market
Elysian Heights Elementary School
Feeding Birds
FIX Coffee
…and more!
https://echoparknow.com/wp-content/uploads/2020/04/EPN_Logo_600px.png
0
0
Kelly
https://echoparknow.com/wp-content/uploads/2020/04/EPN_Logo_600px.png
Kelly
2012-05-18 11:02:04
2012-05-18 21:38:07
Echo Park Art Walk tomorrow!