Echo Park in the News: Hefty real estate, LA haters, a newbie guide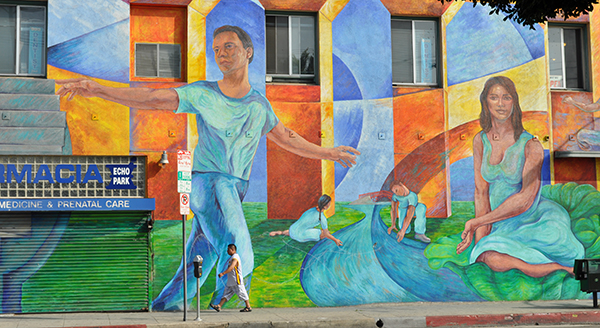 Hefty price for Echo Park apartment building
Echo Ten Thirty on the busy intersection of Alvarado and Sunset houses 20 loft-style apartments along with street-level commercial units. It's only two years old, but the owners have put it up for sale for a hefty $9.3 million. Though the location is pretty darn good (despite the traffic issues at the intersection), you can walk to Echo Park hot spots like Mohawk Bend, or gym it up at the new Crossfit in the building, but rent prices range from $1,495 to $3,555. The Eastsider LA has the deets.
Would you rent an LEED-certified apartment there?
Los Angeles or San Francisco?
Forget the Giants versus Dodgers rivalry (which, by the way, the Dodgers are at AT&T Park tonight for a three-game series), this is a debate about the city. Unfortunately, one SF Travel author has it all wrong in an article titled "Choosing between LA and SF: 9 Reasons to Head to San Francisco." The author doesn't think the Los Angeles has any nature (hello beaches? mountains?) or good food (our plethora James Beard award-winning chefs don't seem to matter?), and apparently we're not hipster enough (have you been to Silver Lake?).
Thankfully LAist has our back, giving Echo Park a shout-out for our great food, the hipster factor, and our neighboring Downtown's own Angels Flight cable car. There are many other reasons to vote for LA, check out the LAist article and decide for yourself!
Echo Park for newbies
How would you describe Los Angeles neighborhoods to a newbie? The Native Angeleno takes on this challenge in an article titled, "LA Neighborhoods: An Introduction for Beginners." The site's description of Echo Park isn't exactly how we'd put it:
There are 347 definitions of the word Hipster at Urban Dictionary, and next to each one is a picture of someone who has lived in Echo Park, from artists and independent thinkers to trust fund bohos and delusional space cadets.
We think they may have meant that one for Silver Lake. The other problem is we think they have organized the list into regions then neighborhoods, as we're pretty sure K-Town is NOT in the Eastside. Okay, no another border dispute about Eastside versus Westside versus East LA. Check out the article for yourself.
https://echoparknow.com/wp-content/uploads/2020/04/EPN_Logo_600px.png
0
0
Kelly
https://echoparknow.com/wp-content/uploads/2020/04/EPN_Logo_600px.png
Kelly
2012-09-07 14:23:09
2012-09-07 14:23:09
Echo Park in the News: Hefty real estate, LA haters, a newbie guide