Echo Park Lake Lotus Festival is back!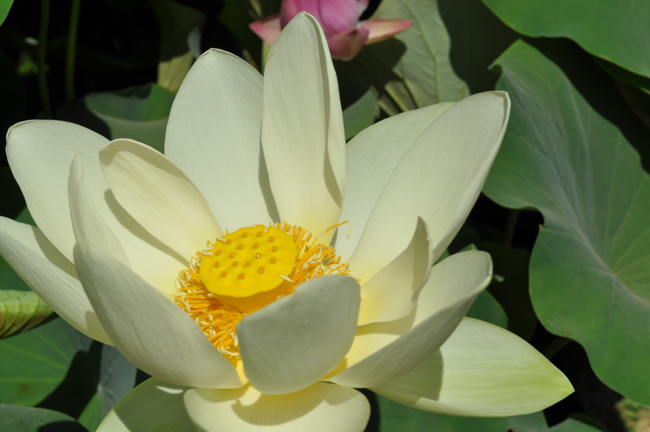 This is very exciting for Echo Park… the Lotus Festival has returned!
The 34th Lotus Festival takes place this weekend, July 12 and 13. This year's host country is the Philippines.
This is not only the first year since the park was closed and renovated, it's been a few years since there have been actual Lotus flowers blossoming at the lake. There will also be the return of the Dragon Boat races, as well as some delicious food, entertainment, performances, music and dancing.
To kick off the festivities, Council District 13 is hosting Echo Park Night on Friday, July 11 with a film screening and live music. Picnic baskets and blankets encouraged!
Opening ceremony for the festival starts at noon on Saturday, July 12. Check back on this post for schedule updates as we get them!
UPDATE: Lotus Festival Schedule after the jump!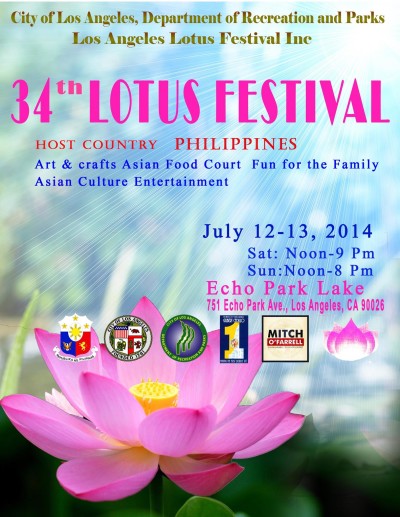 Saturday
11:45a
Immortals Lion Dance Troupe
12:00p
Opening Ceremony
The Republic of the Philippines – Consulate General of the Philippines in Los Angeles
2:00p
Pacific Asian Club
Dance: Graceful, Powerful, and Skilled
2:30p
Na Kapa Ku Hula Halau Kula Nui 'O Kaleponi
Island Cultural Dances – Hawaii the 50th State
3:15p
Knights Martial Arts
Martial Arts Forms, Self Defense Techniques, & Weapons Demonstration
3:45p
Clear Cosmos – Art Studio
Chinese Classical Dance: Glory Reborn
3:55p
Sharp Three
Musical "Wakonyosai", Asian and Western jazz-styles with progressive twists and classical reflections
4:25p
Haribol Healing Dance & Sacred Sounds Troupe
Dance: Meditative, Strength, Balance, and Harmony
4:55p
LA Skyline
Dance: Drill Team 1920's Routine
5:10p
Kawalea Polynesian Dance
Dance: Hawaiian, Tahitian, Samoan, and New Zealand
5:40p
Mantra Band
Music: Healing, Stress Releasing, Ancient Sacred Sounds
6:10p
Northern Shaolin Kung Fu Association
Chinese Lion & Dragon Dance, plus Kung Fu & Weapons Demonstration
6:40p
The Bigrough
Music: Rock
7:10p
Glastonbury Tor
Music: Soothing, Vivid, Artistic, & Conceptual
7:40p
Elson and the Soul Barkada
Music: 9-piece Soul, Funk, R&B
8:10p
On Time
Music: Latin Jazz & Rock
Sunday
12:00p
Just Friends Jazz
Music: Modern, Straight-Ahead Jazz
1:00p
Muay Thai School USA
Martial Arts Demonstration
1:30p
SIPA Crew
Dance: Hip-Hop
1:45p
Bulldawgs Blues Band
Music: Electric Blues & Blues Rock
2:30p
Tani & Students from LA RAP
Dance: Several Asian Cultures – Indian, Filipino, Japanese, Chinese, & Korean
3:00p
Shaolin Temple Kung Fu School
Chinese Martial Arts & Lion Dance
3:30p
Spirit Soul & Friends – A Musical Peace Troupe
Music: World Music featuring Live Instruments, Dancing, and Yoga
4:00p
Hula O Hoaloha
Dance: Traditional Hawaiian Hula
4:30p
Bitter Party (Ku Pai Duei)
Music: "Ghost Pop"
5:00p
Ho'aloha Polynesian Dancers
Dance: Hawaiian, Tahitian, and Maori
5:30p
Ku'uipo 'O Hula
Dance: "Sweethearts of Hula" – Hawaiian, Tahitian, and Maori
6:00p
Bangla Middle School
Music: Harmonium, Tabla, Sitar
6:30p
Mime By Huda
Dance: Neo Mime and Movement Performance
6:45p
Sami Khan
Music: Singer-Songwriter
7:30p
Double Dosage
Music: Hip-Hop & Rap Duo
https://echoparknow.com/wp-content/uploads/2020/04/EPN_Logo_600px.png
0
0
Kelly
https://echoparknow.com/wp-content/uploads/2020/04/EPN_Logo_600px.png
Kelly
2014-07-10 22:36:31
2014-07-11 11:01:01
Echo Park Lake Lotus Festival is back!