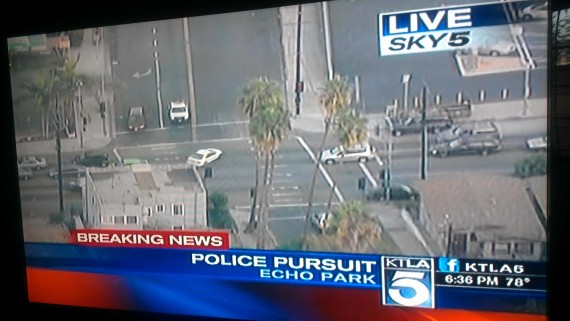 We may be used to the car chases being aired on Los Angeles TV networks, but when they come through your own neighborhood things get a little real. It was especially scary that the suspect was not only considered armed and dangerous – he was possibly a murder suspect, and definitely had an AK-47. When that happens:
DON'T
throw things at the suspect's car during a low-speed chase through your neighborhood. The suspect may have an AK-47. CBS Los Angeles reported that people were seen throwing items at the suspect's car in Los Feliz – don't do it!
DO
watch from your home or work, away from windows, because who knows what will happen and where.
DON'T
jump out in front of the suspect's car as it drives through your neighborhood, especially if the media is report the suspect is heavily armed. The driver was suspected of murder, which means they probably will run you over.
DO
watch from your home or work, away from windows.
And while we're at it, if you;re a murder suspect, are heavily armed, and get caught talking or texting on your cell phone during a normal traffic stops, just pull over. We don't mean to make light of it – it is a serious situation. Just don't try to intervene, let the police do their thing, and hopefully, thankfully like this time, there was no loss of life or serious injuries to passer-byes.
https://echoparknow.com/wp-content/uploads/2020/04/EPN_Logo_600px.png
0
0
Kelly
https://echoparknow.com/wp-content/uploads/2020/04/EPN_Logo_600px.png
Kelly
2012-09-11 22:19:02
2012-09-11 22:19:02
What not to do during an LA car chase