Zooming in on Echo Park: LA Times crime map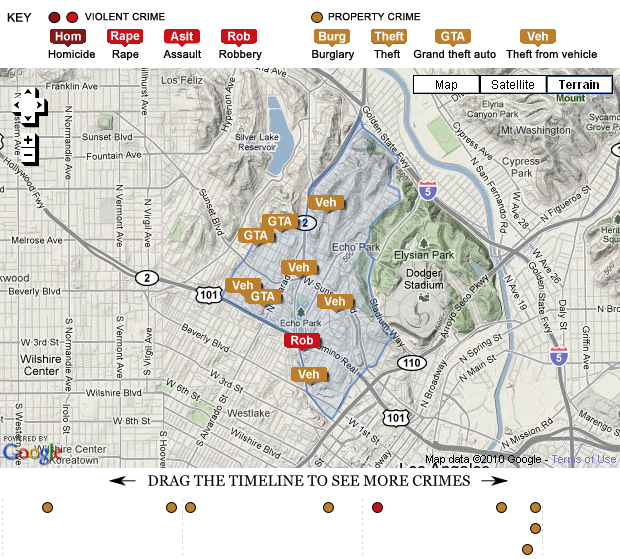 The LA Times recently added a new facet to the website's mapping project – a detailed map of daily crime reports for cities and neighborhoods that allows "users to analyze crime statistics, search historic crime patterns and receive alerts when several crimes occur in an area over a short period of time."
The LA Times maps use data from the LAPD and the Sherriff's Department to create report for cities and neighborhoods. This map comes after the LA Times criticized the LAPD crime map database for having quite a few errors that led to serious misinterpretations of crime data. Some time since the publication of the LA Times crime map, the LAPD crime map page says the following:
The Los Angeles Police Department's Crime Map page is currently undergoing technical renovations in preparation for a new crime mapping system which will include expanded crime data from adjacent agencies, and will accommodate our growing viewer data base. Until such time as the new crime mapping system is fully functional, you may view Part One crime data provided to the Los Angeles Times by the Los Angeles Police Department at http://projects.latimes.com/mapping-la/crime/. We apologize for any inconvenience during this process and thank you for your patience and understanding.
No word on whether or not (and when) the map will be functional again on the LAPD website, but for now you can click on the map image above to scroll through the crime data for Echo Park. It's supposed to be updated daily, so keep an eye out on the map and see if you can tell if everything's being reported.
Authors note: the Echo Park map does not include the greater Echo Park/Elysian Park and Historic Filipinotown areas that many residents consider to be Echo Park boundaries. To learn more about Echo Park boundaries, click here.
https://echoparknow.com/wp-content/uploads/2020/04/EPN_Logo_600px.png
0
0
Kelly
https://echoparknow.com/wp-content/uploads/2020/04/EPN_Logo_600px.png
Kelly
2010-10-05 15:21:54
2010-10-05 15:21:54
Zooming in on Echo Park: LA Times crime map