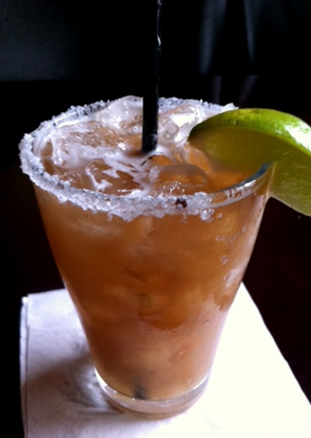 If you're an avid reader of Echo Park Now, you'll know how much I love margaritas. And I love drinking them in Echo Park – especially today, which is National Margarita Day!
The obvious margarita place is El Compadre for the very strong and tart flaming margaritas. If you're looking to try something new and start a new tradition, you can also check out Allston Yacht Club for the debut of a new margarita, the Tamarita.
For just $6 on Tequila Tuesdays, the Tamarita is made with housemade tamarind syrup and fresh lime juice.
They also have the best Jalapeño Margarita – and trust me, I've tried them all over, and they are to die for! Tuesdays are Tequila Tuesdays, so you pay just $6 for either of the margaritas.
Here's the Tamarita recipe, courtesy of AYC:
2 oz. tequila
1 oz. lime juice
3 tablespoons tamarind syrup
Combine with ice in shaker. Shake madly and pour into highball glass rimmed with salt and garnish with a wedge of lime.
To make the Tamarind syrup:
Ingredients:
One box Thai tamarind pods, husked, de-veined and seeded, or 3 oz. tamarind paste
3 oz. piloncillo or brown sugar
2 cinnamon sticks
Simmer tamarind paste in at least three pints of water with cinnamon and sugar. If using the pods, push paste through a strainer and discard seeds. Simmer until reduced to a quart of liquid and cool. Syrup will thicken considerably.
https://echoparknow.com/wp-content/uploads/2020/04/EPN_Logo_600px.png
0
0
Kelly
https://echoparknow.com/wp-content/uploads/2020/04/EPN_Logo_600px.png
Kelly
2011-02-22 10:35:46
2011-02-22 11:59:07
Margaritas, Echo Park style, for National Margarita Day