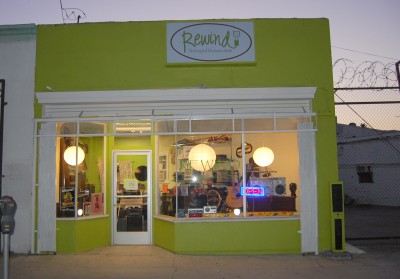 REWIND: The Recycled Electronics Store is literally a Mom and Pop operation. When I walked in, Jen (The Mom) was playing with her two-year-old daughter while her baby slept in the back. Her husband, Oscar (The Pop), was away searching for treasures to bring into their inventory.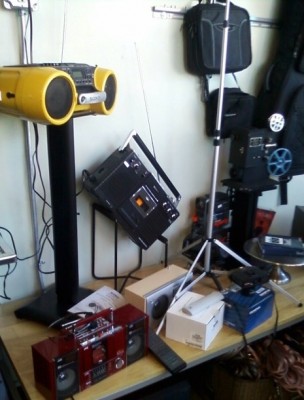 For several years, Jen and Oscar Carpinteyro have been salvaging items from estate and yard sales in Orange and Riverside counties. When they lived in Temecula, friends and neighbors would give them their used furniture, appliances and electronics when they moved away. At some point, they decided to start collecting solely electronics. Oscar's dad would then fix whatever needed fixing, and Oscar would sell the stuff on Ebay. They moved to Los Angeles a couple of years ago, and purchased their current space on Alvarado a few months ago at Oscar's suggestion.
Their small but lovely space at 1041 North Alvarado Street is stuffed with vintage and newer stereos, speakers, receivers, amps, radios, guitars, pretty much anything you can plug in. And what's in the store is just a small part of their inventory. It's one of those places where, if you don't see it in the store, just ask them if they have it, and they'll see what they can rustle up for you. They get the hook up from estate sales and get first pick of certain items before the general public. They will also fix your stuff for you, and they do FREE estimates!
They'll be hosting a grand opening party (featuring Jen's mom's taquitos!) in a couple of weeks. In the meantime, you can visit them at the store or find them online on their website, their blog, or on Facebook.
https://echoparknow.com/wp-content/uploads/2020/04/EPN_Logo_600px.png
0
0
Caitlin
https://echoparknow.com/wp-content/uploads/2020/04/EPN_Logo_600px.png
Caitlin
2010-08-10 12:00:12
2010-08-10 10:21:59
REWIND – The Recycled Electronics Store