Artillery & Ammo gallery presents "Friends of Ours…"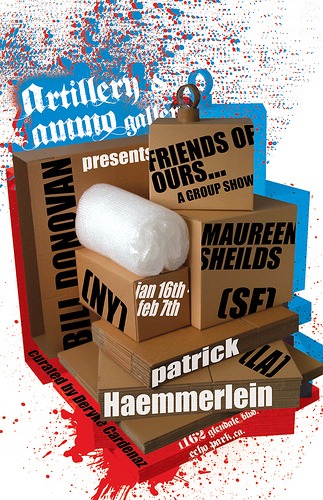 A few days ago, we received some comments on our Echo Park Art Hop post regarding the galleries that AREN'T being featured during said event. We tracked down the writer of these comments and found what turned out to be a really cool guy and an awesome gallery that we never knew existed.
Artillery & Ammo is owned by Henry, a long-time Echo Park resident, and the shows are curated by Deryke. The reason that they don't get a lot of press is because they're tucked away in that strange spot on Glendale underneath the Sunset bridge. I'll be writing more about them in another post dedicated to the stores and galleries in that little strip.
In the meantime, you should check out the group show that's up right now.  It's called "Friends of Ours…" and features three local artists: Bill Donovan, Maureen Sheilds and Patrick Haemmerlein. They'll be having a hard closing (read: wine and cheese) for the show on Saturday, February 6th around 7 p.m.
https://echoparknow.com/wp-content/uploads/2020/04/EPN_Logo_600px.png
0
0
Caitlin
https://echoparknow.com/wp-content/uploads/2020/04/EPN_Logo_600px.png
Caitlin
2010-01-29 21:18:39
2010-01-29 21:19:04
Artillery & Ammo gallery presents "Friends of Ours…"