March Events At Echo Curio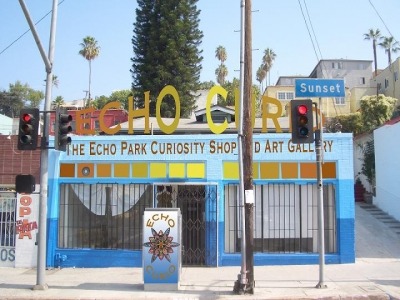 Text from the Echo Curio website.
Mon, Mar 1st – ZAIMPH + STELLAR OM SOURCE + PACIFIC CITY NIGHTLIFE
VISION BAND + M. GEDDES GENGRAS
This is gonna be a killer show, PCNVB is Spencer from SKATERS and VODKA
SOAP jamming with two other dudes.  We also got the incredible NYC sound
artist/explorer Marcia Bassett, playing here as ZAIMPH.  And to top off the deal, we
have the Dutch vibrationist and keyboard ritualist STELLAR OM SOURCE here to
shake us slowly to sleep.
www.zaimph.org
www.myspace.com/omsource
good luck finding the PACIFIC CITY NIGHTLIFE VISION BAND anywhere.
Tues, Mar 2nd – PEACE, LOVING + HORAFLORA + headlight + LOLA LOSHKEY
Well, we moved our art drop back a day to help out these fine folks, slyly named
PEACE, LOVING travelling from New England, bringing with them a calamitous
cacophony of metal and whirling free jazz.  SF's HORAFLORA also shares this love
of prepared instruments and strange sonic disturbances.  Our very own headlight,
on the other hand, will seem like a gentle dream, a synth-based slalom into the
abyss.  And also recently added is the newly developed LOLA LOSHKEY, a
frightening trip into the realm of dead pets, stuffed unicorns and skeleton suits.
http://whitehausfamilyrecord.com/blastzone/artists/peace-loving/
www.myspace.com/horaflora
Wed, Mar 3rd – ART DROP for the PEOPLE WE KNOW SHOW 7p to 10p
I know, we usually do art drops on Tuesdays, but this one is gonna be Wednesday,
so that we can have the Peace,Loving guys play.  But don't let out tardiness fool
you, we're super psyched about the phenomenal Rebekkah Clendening coming up
with the idea for this show, and we'll be featuring many of her portraits of local
figures from the neighborhood.  But what kind of neighbors would we be if we didn'
t open up the show to everybody… so come and bring us your portraits, photos,
sculptures and even stories about people you know, people we might get to know!!!

Fri, March 5th – PEOPLE WE KNOW SHOW opens
Sat, March 6th – LACC BENEFIT SHOW all day and night
Sun, March 7th – L'ORCHIDEE D'HAWAII + BELLA NOVELLA + MANICORN +
GEORGE GLASS
Mon, March 8th – NEW MUSIC MONDAY with DAVID SCOTT STONE +
THE URXED + MIRROR TO MIRROR
Tues, March 9th – TATERBUG + TRACY TRANCE +
POCAHAUNTED + INFINITE BODY

Wed, March 10th – CASSORLA + LEARNING MUSIC +
BOY EATS DRUM MACHINE + DYLAN TREES
Thurs, March 11th – BELISS + ORA COGAN +
AMANDA JO WILLIAMS + FORT KING
Sat, March 13th – EXTRA LIFE + JESUS MAKES A SHOTGUN SOUND +
HALLOWEEN SWIM TEAM + guests
Sun, March 14th – GUN OUTFIT + DUNES + RESIDUAL ECHOES +
SO MANY WIZARDS
Tues, March 16th – REPTET + LEARNING MUSIC + ZOO (member of LITTLE TEETH)
Thurs, March 18th – ADAM's HIP HOP SHOW with MICHAEL NHAT + SIRAH ONE +
GAJAH (acid reign) + HALLOWEEN SWIM TEAM (improv set)
Fri, March 19th – EARLY DOLPHIN (record release) + FRENCH SEMESTER
+ THE SPIRES
Sat, March 20th – LET'S PAINT TV + FLUGELDAR!!! + MANNLICHER CARCANO
Sun, March 21st – ELECTRIC JELLYFISH + BLACK APPLES + YOUNG HUNTING
Mon, March 22nd – NEW MUSIC MONDAY with DAVID SCOTT STONE + THE
FARADAY TRIPPERS with SLEEPWALKERS LOCAL + OSCILLATOR
Wed, March 24th – Y LA BAMBA + FALSETTO TEETH + THE FRANKS +
CHILDREN OF THE KAI
Thurs, March 25th –  THE RHONE OCCUPATION + RANDOM PATTERNS + FAMILY
PORTRAIT + FICTIONIST
Fri, March 26th – STAG HARE + BIGGER INSIDES + SUMMER REC CAMP +
CATCHER
Sat, March 27th – KIT + DEATH SENTENCE PANDA + 60 WATT KID + OLD LUMPS
Sun, March 28th – AARON DRAKE + SCOTT CAZAN + jones.keusch +
ULRICH KREIGER, MATTHEW SETZER & ANDY NIVEN
Mon, March 29th – BLAINE CAMPBELL + RUTHANN FRIEDMAN +
MARIANA JANIK + PINCHE GRINGO
Tues, March 30th – BIZZART + BITTERENT + CYAN IDES +
THE RETURN OF WALTER GROSS + DROWNING SWANS
Wed, March 31st – ZOLA JESUS + TEARIST + ZOMBELLE
https://echoparknow.com/wp-content/uploads/2020/04/EPN_Logo_600px.png
0
0
Faith
https://echoparknow.com/wp-content/uploads/2020/04/EPN_Logo_600px.png
Faith
2010-02-28 05:00:17
2010-02-24 22:06:24
March Events At Echo Curio