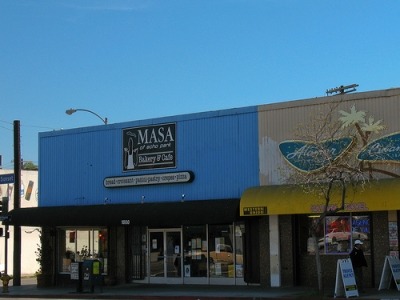 This is post number 2 of my Echo Park menu series!
Masa of Echo Park
1800 West Sunset Blvd.
Los Angeles, CA 90026
(213) 989-1558
Monday thru Thursday 11am to 11pm
Friday 11am to Midnight
Saturday 8am to Midnight
Sunday 8am to 11pm
"We serve a special Brunch menu on Saturdays and Sundays from 8am until 3pm…along with pizzas, panini, salads and soups"
See PDF Version here. Click below to read full menu.
Two Eggs Any Style
6.95
Poached Eggs
7.50
Scrambled Egg Whites
with tomato & basil 7.50

Omelettes Made to Order
Your choice of Swiss or cheddar cheese
Then choose any two: bacon, basil, Black Forest ham, black olives, broccoli, green pepper, jalapenos, mushrooms, red onion, roasted red pepper, sausage, sliced fresh tomato, spinach, sundried tomatoes 8.95

Eggs Clementine
Two poached eggs, sauteed spinach, your choice of ham or veggie sausage patties & our creamy hollandaise sauce atop warm, buttery brioche from the Masa bakery 9.95

Brioche French Toast
A rich butter & egg bread from the Masa bakery, sliced thick – the crust is glazed before baking and turns a deep golden brown. Marie Antoinette's famous phrase "let them eat cake", delivered to a crowd of peasants before the French Revolution is actually a mistranslation. The original French was "Qu'ils mangent de la brioche". 9.25
Potato Leek Soup
A creamy vegetable broth with leeks, chunks of potato & a touch of butter 5.95

Manchego Salad
A compressed salad of organic baby lettuces, dates, granny smith apples, caramelized walnuts, Manchego cheese and pear dressing, drizzled with a balsamic reduction and extra virgin olive oil. 9.95
Add grilled rosemary chicken breast or grilled veggie chicken 3.50 / 4.50
Caesar Salad
Romaine lettuce, parmesan wedges, croutons & crisp bacon 9.95
Add grilled rosemary chicken breast or grilled veggie chicken 3.50 / 4.50
Mixed Green Salad
Organic mesclun greens, tomato and chopped shallots in a shallot-dijon mustard vinaigrette.  6.95
Add grilled rosemary chicken breast or grilled veggie chicken 3.50 / 4.50
Nicoise Salad
Albacore tuna marinated in extra virgin olive oil and herbs over romaine lettuce, hardboiled egg, steamed potatoes, black olives, green beans and tomato – topped with sauteed garlic chips, a filet of anchovy and basil-herb dressing. 9.95

Sunset Pizza Salad
Organic mesclun greens, mortadella, Genoa salami, onion, black olives, green olives, tomato, Scala's Authentic Hot Giardiniera (spicy), parmesan and mozzarella cheeses, tossed in our shallot-dijon mustard vinaigrette and served on a rosemary pizza crust. 12.95
Available without meat
Chicago Pizza:
Traditional
Masa's Secret Recipe Sweet Italian Sausage & Mushroom 14.95
Large 19.95
Lots of Meat
Masa's Secret Recipe Sweet Italian Sausage & Pepperoni…lots of it 14.95
Large 19.95
Lots of Cheese
Mozzarella, Romano & Buffalo Mozzarella…lots of it 14.95
Large 19.95
Classic Vegetable
Black Olive & Mushroom 14.95
Large 19.95
California Vegetable
Spinach & Sundried Tomato 14.95
Large 19.95
Build Your Own
12.95
Chicago Pizza Toppings
Anchovy Filets, Bacon, Basil, Black Forest Ham, Black Olives, Broccoli, Garlic, Genoa Salami, Green Olives, Green Pepper, Grilled Rosemary Chicken Breast, Jalapenos, Mortadella, Mushrooms, Pepperoni, Pineapple, Red Onion, Roasted Red Pepper, Masa's Sweet Italian Sausage, Sliced Fresh Tomato, Soy Cheese, Spinach, Sundried Tomatoes, Xtra Mozzarella Cheese, Xtra Sauce 3.00

More Chicago Pizza Toppings
Buffalo Mozzarella, Cherry Tomatoes, Bleu Cheese 4.00

Even More Chicago Pizza Toppings
Artichoke Hearts, Blackened Chicken Breast, Italian Beef, Proscuitto, Roasted Garlic, Roasted Shallots, Giardiniera, Veggie Pepperoni 4.50
Bistro Pizza:
Alvarado
Blackened chicken, cherry tomatoes, green pepper, red onion, marinara, mozzarella & parmesan 12.95

Berkeley
Soy cheese, tomato, marinara & basil 12.95

Bonnie Brae
Sundried tomato pesto, spinach, sundried tomatoes, mozzarella & parmesan 12.95

Cerro Gordo
Roasted shallots & garlic, marinara, mozzarella & parmesan 11.95

Douglas
Masa' secret recipe sweet Italian sausage, green pepper, red onion, marinara, mozzarella & parmesan 12.95

Elysian Park
Italian beef, proscuitto, pepperoni, Scala's Authentic Hot Giardiniera (spicy), marinara, mozzarella & parmesan 14.95

Kensington
Pomodoro sauce, buffalo mozzarella, basil leaves & parmesan 12.95

Laguna
A sprinkle of basil, marinara, mozzarella & parmesan 8.95

Lemoyne
Red onion, red pepper, cherry tomatoes, broccoli, mushrooms, marinara & parmesan 13.95

Lilac
Veggie pepperoni, onion, mushrooms, marinara, mozzarella & parmesan 14.95

Lucretia
Baked chicken parmesan, pomodoro sauce, mozzarella & basil leaves 14.95

Marview
Pomodoro sauce, buffalo mozzarella, onion, anchovy filets, green olives, garlic & parmesan 12.95

McDuff
Pepperoni, roasted shallots, onion, crispy leeks, marinara, mozzarella & parmesan 12.95

Quintero
Spicy buffalo sauce, buffalo chicken, bleu cheese, celery & mozzarella 12.95
veggie buffalo chicken 1.00
Santa Ynez
Proscuitto, pineapple, jalapenos, marinara, mozzarella & parmesan 13.95

Scott
Pepperoni, red onion, mushrooms, marinara, mozzarella & parmesan 11.95

Echo Park
"Build Your Own" Bistro Pizza 8.95

Echo Park Toppings
Anchovy Filets, Bacon, Basil, Black Forest Ham, Black Olives, Bleu Cheese, Broccoli, Buffalo Sauce, Cherry Tomatoes, Garlic, Genoa Salami, Green Olives, Green Pepper, Grilled Rosemary Chicken Breast, Jalapenos, Mortadella, Mushrooms, Pepperoni, Pineapple, Pomodoro Sauce, Red Onion, Roasted Red Pepper, Sliced Fresh Tomato, Soy Cheese, Spinach, Sundried Tomatoes, Xtra Mozzarella Cheese, Xtra Sauce 1.50

More Echo Park Toppings
Artichoke Hearts, Blackened Chicken Breast, Buffalo Mozzarella, Proscuitto, Italian Beef, Roasted Garlic, Roasted Shallots, Giardiniera, Sundried Tomato Pesto, Veggie Pepperoni 3.00

Even More Echo Park Toppings
Grilled Veggie Chicken 4.00
Caprése Panini
Sundried tomato pesto, buffalo mozzarella, whole leaf basil & sundried tomatoes  8.95
Add proscuitto 2.00
Veggie Sausage Panini
Veggie Sausage patties, caramelized onion, seasoned tomato sauce & mozzarella cheese 9.95

Tuna Panini
Albacore tuna, capers, onion, horseradish mayo & Swiss cheese 8.95

Chicken Club Panini
Grilled rosemary chicken breast, bacon, tomato, mayo & Swiss cheese 8.95

Sausage Panini
Fontanini sweet Italian sausage, a touch of chorizo, caramelized onion, seasoned tomato sauce & mozzarella cheese 8.95

Masa Muffaletta
Mortadella, Genoa salami, lettuce, tomato, onion, Scala's Authentic Hot Giardiniera (spicy), mayo & Swiss cheese served on a Cuban roll 8.95

Spanish Burger
Burger seasoned with chorizo, onion, tomato & mustard then grilled and topped with Manchego cheese 8.95
Apricot Crépe
A light sweet crépe made with apricot preserves and served with creme fraiche & candied walnuts 6.95

Lemon Butter Crépe
A light, sweet crepe with fresh-squeezed lemon & butter served with strawberry preserves 6.95

Banana Crépe
A light, sweet crepe with bananas & candied walnuts sauteed in butter & brown sugar, served with creme fraiche 7.25

Caramelized Apple Crépe
A light, sweet crepe with caramelized apples & cinnamon, served with creme fraiche 7.25

Black Forest Ham & Swiss Cheese
A savory peppercorn crepe with ham, Swiss cheese & a hint of nutmeg
7.95
Spinach & Mushroom
A savory peppercorn crepe with spinach, mushrooms, onion, Swiss cheese & herbs 7.95
Add grilled rosemary chicken breast or grilled veggie chicken 2.00 / 3.00
Dinner:
Masa Penne
Our signature mushroom pasta in a sundried tomato pesto cream sauce 14.95
Add grilled rosemary chicken breast or grilled veggie chicken 3.50 / 4.50
Fresca a la Siciliana
Penne tossed with basil, garlic, tomato, onion, mushrooms, pine nuts & shredded parmesan cheese 14.95
Add grilled rosemary chicken breast or grilled veggie chicken 3.50 / 4.50
Alla Roma
Penne or Gnocci in a classic pomodoro sauce 12.95
Add grilled rosemary chicken breast or grilled veggie chicken 3.50 / 4.50
Masa Gnocchi
Mushrooms, garlic, peas & a touch of cream 13.95
Add bacon 2.00
Penne Orleans
Blackened cajun spiced chicken breast, spicy arabiatta sauce, crispy mushrooms & shredded parmesan 16.95
Available without chicken
Parmigiano di Pollo
Baked parmesan & herb crusted chicken breast topped with mozzarella cheese over penne marinara 15.95

Lasagna di Formaggio
Baked in a zesty marinara with ricotta, mozzarella and romano cheeses & served with our house salad 12.95

Midwest Meatloaf
Wrapped in bacon with a touch of chorizo & tangy tomato sauce, served with roasted potatoes & sauteed spinach 12.95

Moules et Frites
New Zealand Green Lip mussels in a garlic-rosemary-butter-cream sauce so full of flavor we give you fries for dipping 12.95
Warm Croissant Bread Pudding
Masa's signature dessert: chocolate, almond & butter croissants, pan baked in a vanilla custard & drizzled with warm caramel sauce 7.95
Extra caramel 1.00
Grandma Dorothy's Carrot Cake
Topped with a scoop of rich cream cheese frosting 5.75

Chocolate Silk Creme Brulee
Silky, creamy, chocolate custard 6.95

Classic Cannoli Italiano
Crispy Italian pastry with a chocolate chip ricotta filling 6.50
Butter Croissant
2.00
Almond Croissant
2.75
Chocolate Croissant
3.00
Cuban Roll
2.00
Chocolate Chip Walnut Cookie
1.75
Oatmeal Raisin Cookie
1.00
Sweet Crépes a la carte
Lemon Butter, Banana, Caramelized Apple or Apricot 5.95
Bowl of Seasonal Fruit
4.95
Veggie Sausage
3.50
Bacon or Sausage
2.50
Two Eggs
2.50
Two Poached Eggs
2.75
One Egg
1.50
One Poached Egg
1.75
Breakfast Potatoes
3.00
Fries
3.00
Toast
1.50
Sliced Tomato
2.00
Drinks
Masa's House Rosso or Bianco
Full Litre  12.95
Half Litre   7.95
By the Glass   4.00
Wines By The Bottle
Sauvignon Blanc
Erwin Sabathi Possnitzberg Vineyards, 2004, Australia
Golden, fruit forward, gooseberry & melon with herb and mineral notes 25
Cabernet Sauvignon
Blackstone Vineyards, 2007, California
Rich & robust with supple tanins & a very berry finish 22
Cabernet Sauvignon
Guenoc Vineyards, 2007, Lake County, California
Chocolate & blackberry with undertones of caramel & black cherry 29
Syrah
Blackstone Vineyards, 2006, California
Bold and chewy with ripe berry fruit, firm tannins and moderate oak 24
Mumm Napa Brut
For that special occasion…or just because! 45
Wines By The Bottle & Glass
Pinot Grigio
Campagnola Vineyards, 2008, Veneto, Italy
Crisp & clean with soft citrus & green apple 5/20
Chardonnay
Cycles Gladiator Vineyards, 2008, California
Pleasantly light & buttery with banana, wildflower, jasmine & melon 5/20
Rose
Mil Piedras, 2007, Mendoza, Argentina
Wild strawberry, ripe cherry & a touch of guava 5.50/22
Pinot Noir
Cycles Gladiator Vineyards, 2008, California
Smooth & silky with wild berries, plum, vanilla & a hint of truffle 6.50/29
Cabernet Sauvignon
Cycles Gladiator Vineyards, 2007, California
Mocha & raspberry, blackberry & dusty tannins 5/20
Syrah
Cycles Gladiator Vineyards, 2008, California
Rich & spicy with big red fruit, cracked pepper & tobacco 5/20
Wines By The Glass
Masa House Bianco
Masa's House Wine by the Glass 4
Masa House Rosso
Masa's House Bianco by the Glass 4
House Champagne
our house champagne 5.50
Mimosa
House champagne & Odwalla orange juice 5.95
Poinsettia
House champagne & cranberry juice 5.95
Kir Royale
House champagne, a splash of black currant & a twist of lemon 5.75
Dessert Wine
Vin de Glaciere Riesling, Pacific Rim, 2007 Selenium Vineyard
Icy smooth liquid gold with honey, clove & wildflower  6
Masa's Honey Blonde Ale
Firestone Walker Brewing Co. Paso Robles, California
Made for Masa by the Firestone Brewery, a crisp pale ale with a touch of honey 5.50
Firestone Double Barrel Ale
Firestone Walker Brewing Co. Paso Robles, California
A smooth, full-bodied English-style amber ale with a touch of spice 5.50
Masa's India Pale Ale
Firestone Walker Brewing Co. Paso Robles, California
Made for Masa by the Firestone Brewery, a strong, rich pale ale with lots of hops 5.50
Guinness Stout
St. James' Gate Brewery Dublin, Ireland
Creamy malt & caramel flavor, classic dry-roasted bitter finish 6
Black & Tan
Guinness & Double Barrel 6
Half & Half
Guinness & Honey Blonde 6
Bottled Beer
Miller Lite
Hey, it's Miller Lite 4
Sharp's
Non-alcoholic 4
Soft Drinks
Coke, Diet Coke, Sprite, Orange Soda, Gingerale 1.95
Passion Fruit Iced Tea 1.95
Lemonade, Arnold Palmer 1.95
Italian Water
San Pellegrino Sparkling or Acqua Panna Still 3.50
Odwalla Orange Juice 2/4.50
Cranberry Juice 2/4.50
Milk 2/4
Chocolate Milk 2.50/5
Organic Soy Milk 2.50/5
Hot Chocolate 3.45/4.20
Sumatra Roast Drip Coffee
Organically grown & locally roasted 1.65
Iced Coffee 1.95
Mediterranean Espresso 1.65
Double Espresso 1.95
Americano 2.05
Cortadito 2
Cafe au Lait 2.10
Cappucino 2.75
Latte 2.85
Iced Latte 3.30
Mocha 2.95
Iced Mocha 3.40
Hot Tea 1.65
TAKE OUT
Take Out food is available every day!
Call Masa at (213) 989-1588
LUNCH DELIVERY – in Echo Park & Silver Lake
Monday – Friday, 11:00am – 3 pm
Call Masa at (213) 989-1588
LUNCH DELIVERY – outside Echo Park & Silver Lake
Monday – Friday, 11:30am – 2:00pm
Call LA Bite at: (310) 441-2483 or visit Labite.com
EVENING DELIVERY – 7 Nights a Week
Evening delivery service available 7 Nights a Week, 5.30pm – 9.15pm
Call LA Bite at: (310) 441-2483 or visit Labite.com
https://echoparknow.com/wp-content/uploads/2020/04/EPN_Logo_600px.png
0
0
Faith
https://echoparknow.com/wp-content/uploads/2020/04/EPN_Logo_600px.png
Faith
2010-03-08 09:00:56
2010-02-25 01:24:22
Menu Mondays: Masa