Flashback Friday! Leo Politi: "The Artist of Olvera Street"
Perhaps some of you have noticed the sign on the corner of Sunset and Echo Park Ave. that reads "Leo Politi Square"? I myself just noticed it about a year ago and then promptly forgot about it until my roommate asked me what it was all about last week. It turns out that neither of us were completely clueless as this corner was just dedicated to him in 2008. But once I observed that Mr. Politi also had a school and an area of Elysian Park dedicated to him, I did some more investigating. So let's take a journey into Echo Park's past and learn a bit about one of our most famous historic figures!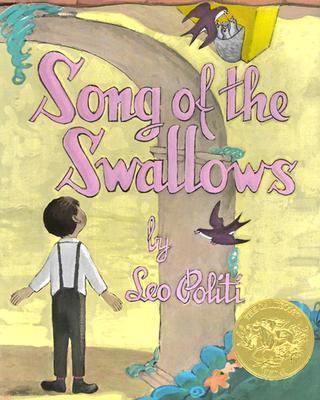 Leo Politi was an artist and an author who write and illustrated at least two dozen children's books. His most famous is Song of the Swallows which won the Caldecott Medal in 1950. He also illustrated books for other writers, drew and painted countless works of art and created a mural entitled "The Blessing of the Animals" located at El Pueblo de Los Angeles on Olvera Street.
He was referred to as the "artist of Olvera Street." Beginning in the 1930s, Politi would set up an easel amongst the vendors and sketch tourists and the residents of the Mexican-American community that lived there. He was also an anthropologist of sorts as much of his artwork and his writing dealt with Mexican-American religious ceremonies and customs. Politi's book Juanita and his mural "The Blessing of the Animals" both explore the traditions surrounding the Easter celebration in that community. Pedro: The Angel of Olvera Street is about Mexican-American Christmas traditions.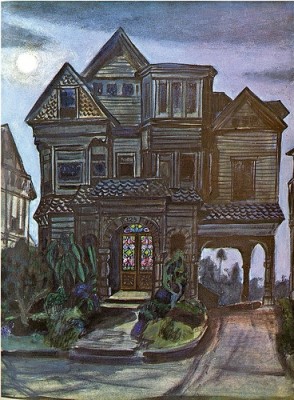 While working on Olvera Street, Politi lived with his wife and children on Bunker Hill which at the time consisted of Victorian Homes and bungalows. In 1961, their house (along with several others) was condemned in order to make room for office buildings, and the family moved to the Angelino Heights area of Echo Park. Both of these neighborhoods served as inspiration for some of Politi's later books including Bunker Hill, Los Angeles: Reminiscences of Bygone Days and Angeleno Heights. Created for the adult reader, these books featured Politi's stunning watercolor paintings of historic Los Angeles neighborhoods.
Mr. Politi passed away in 1996 at the age of 88. His artwork and a couple of his rarer books are now sought after collectibles. However, one can find his more popular books for sale on Amazon, and it looks as though you can find most of them at the L.A. Public Library.
Check out more images of his work below and be sure to take a look at his entry on the Echo Park Historical Society's website.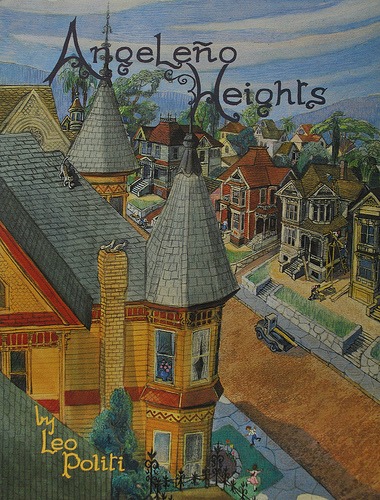 Angelino Heights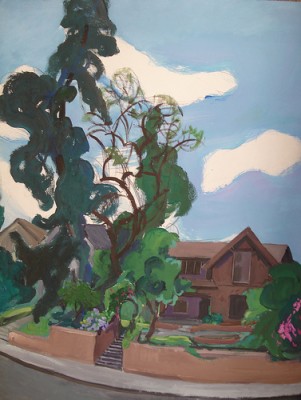 945 Edgeware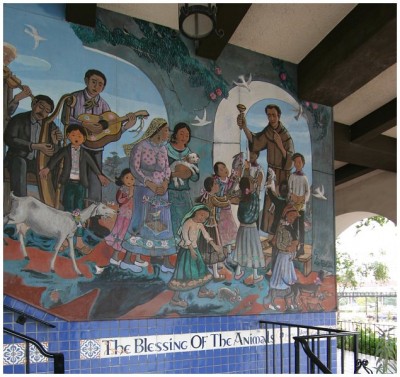 The Blessing of the Animals
https://echoparknow.com/wp-content/uploads/2020/04/EPN_Logo_600px.png
0
0
Caitlin
https://echoparknow.com/wp-content/uploads/2020/04/EPN_Logo_600px.png
Caitlin
2010-03-12 09:00:44
2010-03-12 00:05:03
Flashback Friday! Leo Politi: "The Artist of Olvera Street"