GEPENC Elections Tomorrow
The Greater Echo Park Elysian Neighborhood Council (GEPENC) Elections are tomorrow – Saturday, March 20, 2010.
You can vote at the Central City Action Committee at 534 E. Edgeware Road from 2:00 pm – 8:00 pm
Here's a run-down of the candidates:
Chief Information Officer: Lisa D. Baca, Mo Najand
President: Lester Quijano, Jaime C. Salazar, José Sigala
First Vice President: Francisco Torrero
Treasurer: Gustavo Moreno
District 1 Representatives: Dinora E. Ventura, Efren Mojarro Jr.
District 2 Representatives: Agustin Cebada, James D. Lopez, Nora Elieth Sanchez, Justin G. Mcinteer, Jeremy R. Mann, Cheryl L. Ortega
District 3 Representatives: Juan Godinez, Connie M. Acosta
District 4 Representatives: Leonel A. Ledezma, Yolande Beckles, Stephen H. Stickler
District 5 Representatives: Jeffrey G. Kontorovsky, David Lugo, David "Rockello" Rosen, Phyllis M. Daugherty, Erlinda L. Sorati, Jorge L. Prado, Patricia R. Mendoza
The Greater Echo Park Elysian Neighborhood boundary is shown below: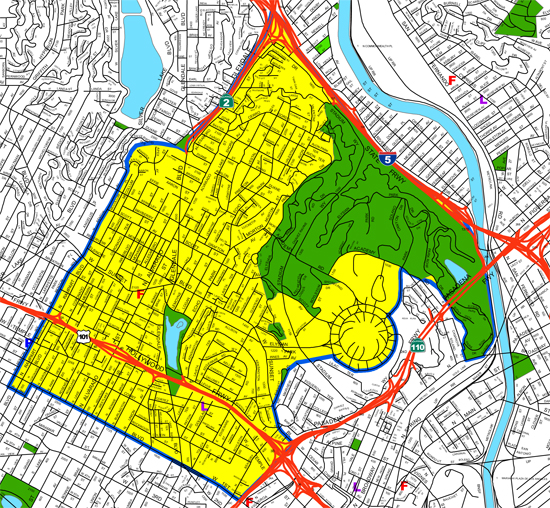 Click here to download a PDF map of the area so you can zoom in.
The only candidate information we have (apart from a quick Google search) is from a PDF you can download via the LA City Clerk website, but I found it tedious to go through all the PDF documents provided. So we've typed up all the candidate statements for you should you be voting tomorrow. If you'd like to view the originals, you can click here, or email us and we'll be happy to send all the downloaded documents along to you.
Wondering what GEPENC does? Feel free to check out the website here.
---
Here are the candidate statements, taken directly from those documents:
CHIEF INFORMATION OFFICER:
Lisa D. Baca
Lisa Baca, 49, a 14-year Echo Park homeowner married with 3 daughters. First elected 2008-10 NC term as CIO.
During the first term, developed a new contact data base increasing 100% the flow of information among NC Board of Directors and communication from NC to the community.
Proud member of:
Echo Park Library Community Group
Echo Park Chamber of Commerce
Logan Elementary Parent Advisory Committee
————————–
Mo Najand
Mo Najand is a 10 year resident of Echo Park. Mo has over 20 years of experience managing complex aerospace programs for local companies. Mo believes that effective flow of information and open communications can lead to an informed community improving their neighborhood. In these challenging times, the neighbors of Echo Park need to have proper access to appropriate neighborhood council, and city of Los Angeles information to know the effects of ongoing decisions on their daily life. Mo will coordinate with the City to ensure the best use of Early Notification System (ENS) Community Impact Statements (CIS) and any other systems the public and private agencies that may affect the quality of life in the neighborhood.
---
PRESIDENT
Lester Quijano: No candidate statement.
————————–
Jaime C. Salazar:
(Note: I had a little trouble deciphering all of the hand-written statement, so I thought it would be easier to post the statement in full. You can download the PDF by clicking here)
————————–
Jose Sigala:
I am running for re-election as President of the Greater Echo Park Elysian Neighborhood Council.
I am homeowner who has lived in Echo Park for 14 years who shares a common interest in advancing a safe, prosperous and thriving neighborhood and business community.
For the last two years I have l had the honor/privilege to work with community/business leaders, parents, teachers, neighbors and local Council offices to improve the quality of life in our neighborhoods.
Together we have:
Organized neighborhood clean ups/graffiti removal
Promoted parks/open space,
Established a community center in Echo Park,
Funded youth programs in our local libraries, recreation centers and schools,
Assured the preservation, promotion and designation of historical landmarks in our neighborhoods.
Working together we have proven that we can make a huge difference in improving our neighborhoods. I hope I can count on your support once again.
---
FIRST VICE PRESIDENT
Francisco Torrero:
Resident of Echo Park for more than 25 years, committed to having a safe and prosperous neighborhood, reaching out to all segments of our community.
Honesty, integrity, friendly and visionary the future of Echo Park belongs to all of us.
Come and vote, keep Echo Park alive and prosperous for all.
---
TREASURER
Gustavo Moreno: No candidate statement.
---
DISTRICT 1 REPRESENTATIVE:
Diora E. Ventura:
I am a FIRST TIME candidate for District 1 Representative. As a 19-year-old High School Graduate and District 1 resident, I attended local public schools and bring a NEW fresh voice to the Neighborhood Council.
I believe that the youth of today are the leaders of tomorrow. As a future Echo Park leader of tomorrow, I have a deep commitment to community volunteerism.
In addition to my academic education, being part of the Neighborhood Council allows me again more life experience and opportunities to volunteer with many other organizations in Echo Park. As a District 1 Representative, I will outreach to Echo Park youth and motivate them to get involved at local community events.
Please give me your support and vote on March 20, 2010. Thank you!
————————–
Efren Mojarro, Jr.: No candidate statement.
---
DISTRICT 2 REPRESENTATIVES
Agustin Cebada: No candidate statement.
————————–
James D. Lopez: No candidate statement.
————————–
Nora Elieth Sanchez: No candidate statement.
————————–
Justin G. Mcinteer:
I am running as a District 2 Representative as a resident and business owner.
I fell in love with Echo Park upon my first visit over twelve years ago. The diversity and liveliness of the neighborhood amazed me.
Moving to Los Angeles nine years ago I was fortunate to purchase a building in the heart of Echo Park along Sunset Boulevard.
I felt strong connection to the neighborhood and to the community living within it. A little over three years ago I opened up a small shop called Echo Curio located in District 2 of GEPENC.
The Echo Curio has grown and thrived, supporting and empowering creative individuals in all medias.
There is nothing better than to have a voice in the direction of community activities for the neighborhood that I love so much. I am committed to making our community better.
Thank you for your vote!
————————–
Jeremy R. Mann:
Echo Park is an extraordinary place. This is a community with rich history and diversity. It deserves beautiful parks; strong schools; and safe, lively streets. These are my priorities for the Neighborhood Councils along with increasing buy-in with our key stakeholders: residents, business owners, and non-profit groups.
This summer I volunteered with LA City Council President Eric Garcetti, who represents Echo Park. I focused on UNTAG, a remarkable program that has reduced tagging in Echo Park by 80% with very little cost. It does this by giving people a phone number. Some solutions are that simple.
On the council I will work tirelessly to solicit feedback from community members to find more such solutions. I don't have all the ideas, but I do have a number: (952) 261-9914. It's my cell phone, and you can call anytime with ideas or concerns. Thanks for the support.
————————–
Cheryl L. Ortega: No candidate statement.
---
DISTRICT 3 REPRESENTATIVES
Juan Godinez
I have been an Echo Park resident of District 3 for over 15 years and I have worked in District 3 for over 10 years.
In the 2008-2010 GEPENC, I serve as the District 3 Alternate in addition to working as a Stakeholder on the Neighborhood Council's Budget and Finance Committee. I believe there are many positive changes happening in District 3 that will help keep the community growing and getting better.
I am committed to cleaning up the graffiti that has vandalized and become and eye sore to so many local homes and businesses.
Thank you for your vote March 20th!
————————–
Connie M. Acosta: No candidate statement.
---
DISTRICT 4 REPRESENTATIVES
Leonel A. Ledezma: No candidate statement.
————————–
Yolande Beckles:
There are many great things about Echo Park that I love. The most important being the children of Echo Park. What future will they inherit?
Part of my summer months, I work in academic enrichment programs for youth. Once a child is motivated and find learning fun, they can dream, do and be anything.
I bring to GEPENC a view from District 4 that is both the business perspective as well as a clear understanding for the need to provide safe clean neighborhoods to raise healthy families and children.
I am a very committed person who can give back to the community in new and creative ways.
Please vote March 20, 2010. Thank you.
————————–
Stephen H. Stickler: No candidate statement.
---
DISTRICT 5 REPRESENTATIVES
Jeffrey G. Kontorovsky: No candidate statement
————————–
David Lugo: No candidate statement
————————–
David "Rockello" Rosen:
David "Rockello" Rosen, Candidate for District 5 Representative of the Greater Echo Park Elysian Neighborhood Council (GEPENC). David Rockello is my professional name that I have been know as since the early 1980's. I am an Artist, Writer, Set Designer, Graphic Designer, Scenic Artist, Sculptor, Makeup Artist, Art Director, Curator, Animator and Community Organizer.
I have been able to work with and across multiple organizational lines for planning and implementation of community projects. My community work has been a great opportunity for public service whereby I encourage development without disenfranchising our stakeholders.
Accomplishments:
Vice President of the Greater Echo Park Elysian Neighborhood Council, 2008-2010, Vice-chair of the Executive Committee, Vice-chair of the Planning, Land Use and Housing Committee and member of the Bylaws Committee.
Advocating for the re-dedication of the Edendale Film Industry Founding Monument and fighting to get the Echo Park Tennis Courts refurbished.
————————–
Phyllis M. Daugherty:
I am the third generation of my family to reside in the Echo Park/ Elysian Park community. I attended Union Ave. school, Our Lady of Loretto, Virgil, Belmont High, and LACC. I have a B.A. in Social and Criminal Justice and worked for the City of Los Angeles for 16 years.
I am active in local and citywide issues and head an animal protection organization that provides training regarding animal care/humane laws and public safety. I serve on the L.A. County Animal Care and Control Foundation Board and am a member of the L.A. Human Trafficking Coalition and the LAPD Human Trafficking Taskforce.
Owning both residential and rental property, I understand our community's challenges regarding traffic, parking, abandoned/stored vehicles, litter, graffiti and crime. As a member of the Neighborhood Council, I would work for youth/education projects, clean-up campaigns, sound planning, Neighborhood Watch programs, and growing local businesses to increase jobs.
————————–
Erlinda L. Sorati:
Erlinda L. Sorati Candidate for District 5 representative of the Greater Echo Park Elysian Neighborhood Council (GEPENC).
I'm known to most of you as Erlinda Lim, a Filipino-American immigrant living in District five, I've been observing the goings on GEPENC for two years and have been creating coalitions with my neighbors. Cooperatively making things work efficiently is why I am interested in joining our GEPENC organization.
I came to understand that participating in this Neighborhood Council is key to bringing unity and better coordination to our efforts to make the community a better place. It's our responsibility to care for each other and to awaken from the ignorance and isolation that some of our neighbors who don't care suffer from. We must show love and respect, speak up and say something with sense, to address the issues and some arising problems in the community, such as criminality and violence.
————————–
Jorge L. Prado:
Dynamic community leader, having live in Historic Filipinotown since boyhood (1966), over 30 years married, with three children.
Product of Belmont High School, LACC, Cal State University Los Angeles, B.S. degree earned.
Sports enthusiast, coaching basketball, football.
Special interest in preservation of history, civic work, neighborhood safety and harmony.
Actively involved in serving the community:
District 5 Representative, GEPENC
President, Filipinotown Chamber of Commerce
Sgt-at-arms, Rotary Club, Historic Filipinotown
Director, Historic Filipinotown Neighborhood Council (501 C3 Corp)
Board, S.I.P.A.
President, Lake St. PAB
Board, PAL's Rampart Area
Advisor, Mother Movement
Member, C-PAB, LAPD Rampart Division
Member, Echo Park Library Community Group
Member, P.A.N.A.
Having acquired better understanding, know-how and skill, I'm running for re-election to GEPENC as District 5 representative so I can continue serving the community with the same passion, dedication and enthusiasm.
————————–
Patricia R. Mendoza: No candidate statement
---
For more information about the GEPENC Election, contact:
City Clerk – Election Division
Piper Technical Center
555 Ramirez Street
3rd Floor, Space 300
Los Angeles, CA 90012
Phone: (213) 978-0444
https://echoparknow.com/wp-content/uploads/2020/04/EPN_Logo_600px.png
0
0
Kelly
https://echoparknow.com/wp-content/uploads/2020/04/EPN_Logo_600px.png
Kelly
2010-03-19 20:37:22
2010-08-13 13:53:05
GEPENC Elections Tomorrow