Echo Country Outpost: 5 Items, 5 Stories.
One of my favorite new stores/spaces in Echo Park is one of my neighbors, The Echo Country Outpost. Aside from scheduling monthly art exhibitions and weekly/monthly music nights, they stock their store with new and vintage curiosities that speak to the appreciators of handmade quality and out-of-the-ordinary gift giving opportunities. The store is arranged with the care and attention to detail of a finely curated historical or natural history museum, and each piece has a unique story. On a recent visit, I inquired as to the stories behind a few pieces.
1) Employee Picks – Favorite Book/Publication:
The Satanists: Devil worship as chilling as Rosemary's Baby.
Salty Sayings: He who goes with wolves will learn to howl.
Peyote: A compelling study of the sacramental use of the Native American hallucinogen.
The Legends and Myths of Hawaii – The Fables & Folklore of a Strange People: A book of Hawaiian mythology & legends. Written by Hawaiian King David Kalakaua.
——————————————–
2) The Piece Most Likely to Kill You (Or Someone Else) with Sweetness:
Candy brass knuckles, knives & guns. They're good for starting and/or finishing fights with friends and loved ones.
——————————————–
3) The Most Romantic Gift for a Smoker:
An extreme feat of taxidermy meets Victorian macabre romance, this vintage elk hoof turned smoker's companion has kept the fires of romance burning through several generations of smokers, and when paired with our cow leg wine bottle…it's a perfect recipe for any urban hunter romance.
——————————————–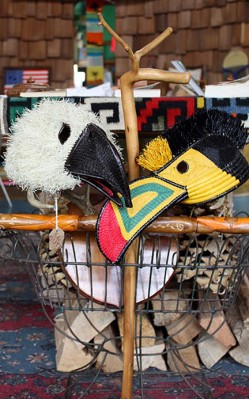 4) The Piece Most Likely to Allow Buyer to Wield Strange Powers Over Others:
The hand-woven Panamanian Bird Masks. These toucan, eagle and owl masks can be used in any number of ceremonies and parades, or just donned to liven up a night out…we promise something magical. Combine with our hand-carved canes and handmade moccasins to go full shaman.
——————————————–
5) The "I Can't Believe We Found & are Selling this Piece," piece:
The "ElectriQuiz" Electrical Panel Quiz Game in which "Questions Are Answered By Electricity!" and wrong answers are punished by electricity as well.
https://echoparknow.com/wp-content/uploads/2020/04/EPN_Logo_600px.png
0
0
Dale
https://echoparknow.com/wp-content/uploads/2020/04/EPN_Logo_600px.png
Dale
2010-03-23 18:00:42
2010-03-23 11:23:30
Echo Country Outpost: 5 Items, 5 Stories.