Earth Week: Recycling How-to's in Echo Park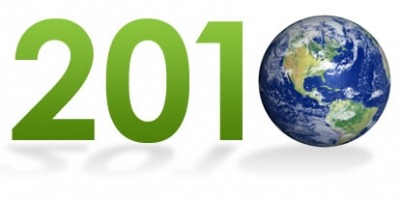 When I first moved to Echo Park a few years ago, one of my primary questions had to do with recycling in the neighborhood. I was concerned about some pretty basic stuff, like what to recycle in the blue bin, but I also wanted to make sure I wasn't throwing away items that didn't belong in either bin.
General Recycling in your blue bin:
Styrofoam: This was my biggest surprise about L.A. County recycling. The Styrofoam containers and cups you get to-go from a restaurant are recyclable – just rinse it out so it's nice and clean and you're good to go.
Clean, dry paper
Cardboard Boxes and Chipboard (even your frozen food boxes that aren't heavily coated in wax.)
Flattened metals such as aluminum, tin, cans, etc. Rinse them out or clean them off. Empty paint and aerosol cans are also recyclable when you remove the caps.
Glass bottles and jars
Clean plastics 1 through 7
Plastic bags and film bags such as grocery bags and clean film plastic.
Miscellaneous plastics like coat hangers and even plastic swimming pools.
Click here to view the Bureau of Sanitation's full list of do's and dont's for blue bin recycling.
Items to pay special attention to:
Batteries: No doubt, batteries are not good for the environment, and if you can't save on batteries with some solar-powered battery recharging contraption, hang on to them for your next trip to the nearby S.A.F.E. collection center in Glendale. You can also recycle batteries at most IKEA stores.
CLRs: Those great light bulbs that save money on your energy bill shouldn't go in the trash due to the small amount of mercury they contain. Hang on to them for your next trip to the nearby S.A.F.E. collection center in Glendale or IKEA.
Computer equipment: We rely heavily on technology, so when your computer, keyboard, or related equipment kicks the bucket, don't just throw it away for the landfills. I have personally looked into donating working computers and equipment to schools, but haven't had much success yet as of yet (please feel free to email me if you'd like to learn more about how you can donate to local schools or other organizations). Otherwise, it might be a good idea to drop of your broken computer equipment to the S.A.F.E. collection center in Glendale.
Clothing and bulk items:
Donate your usable clothing to the Out of the Closet thrift store in Echo Park, or a nearby Planet Aid Clothing drop box (see map below for locations).
Old couches and furniture that won't fit in your trash can shouldn't just go to the curb to annoy your neighbors, click here for information about disposing of bulk items.
Redeeming your recyclables:
Just how much can you earn redeeming your bottles and cans? From personal experience, one Super Bowl party, and two beer lovers plus a soda fiend over 2.5 months will get you a little over $25.00. In real terms, most recycling facilities will give you just under 10 cents per pound for bottles, while cans earn about $1.65-1.85 per pound. Check out the map below to find a location in Echo Park.

View Reduce Reuse Recycle in a larger map
https://echoparknow.com/wp-content/uploads/2020/04/EPN_Logo_600px.png
0
0
Kelly
https://echoparknow.com/wp-content/uploads/2020/04/EPN_Logo_600px.png
Kelly
2010-04-21 10:30:45
2010-08-13 13:53:37
Earth Week: Recycling How-to's in Echo Park