Weeds got you down? Durbin Project Overgrowth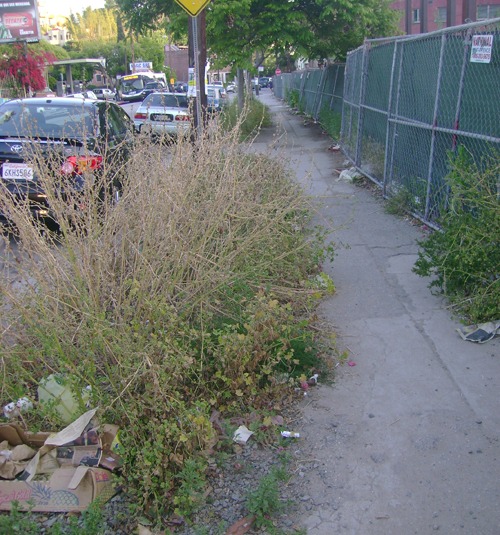 We received an email the other day from an Echo Park resident about his frustrations with the human-sized weeds growing along Echo Park Avenue's Durbin project. The weeds, he writes, are "DRIVING ME CRAZY!" So much, that he's willing to borrow your weed eater and take care of it himself.
Unfortunately, it seems the only progress that's being made are the weeds. There haven't been any recent updates on the status of the Durbin project, located along Echo Park Avenue and Delta Street. For those of you who are new to the area or this issue, a Mount Washington-based developer sold the property to the Angeles Group in late 2006. The ground breaking ceremony was held in 2008, and the project supposed to be completed in April 2009. Since the financial crisis, the property is now owned by OneWest Bank, and so far there's no word on any plans to finish or clean up the project.
One Echo Park resident commented on a recent Eastsider LA article about the property, saying they had emailed the Angeles Group, and the response they got from the group's Adam O'Neill is as follows:
I absolutely understand your frustration. This property is totally in the hands of OneWest Bank. I am forwarding your email to them right now. OneWest made a sweetheart deal with the government and we have tried to work this out with the bank and have been unsuccessful as they have little motivation. Their incentive is not to work it out. It is terrible what the bank has done and we truly have tried to do everything in our power but our efforts have fallen on deaf ears. The local council office has been involved and are working through their channels to get the bank to take some action.
What can we do about the weeds, debris, and buckling fencing? First off, please email Eric Garcetti's office and ask them to put pressure on OneWest Bank to clean things up. You can also join the community for an Echo Park cleanup, to be held the first Saturday of every month, meeting in the Walgreens parking lot (more information to come soon!).
Community volunteers and leaders are working to get the Durbin project cleaned up and finished up. If you would like to go an extra step and help out, come to an Echo Park Improvement Association meeting, a Chamber of Commerce meeting, or join other community meetings to see what you can do. Click here for our calendar to learn when these meetings are happening.
https://echoparknow.com/wp-content/uploads/2020/04/EPN_Logo_600px.png
0
0
Kelly
https://echoparknow.com/wp-content/uploads/2020/04/EPN_Logo_600px.png
Kelly
2010-05-10 11:43:02
2010-05-10 12:20:30
Weeds got you down? Durbin Project Overgrowth