The Echo Park Film Center Filmmobile Returns!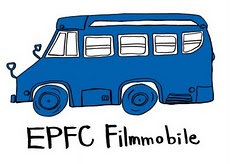 Once again, the Echo Park Film Center's Filmmobile is taking movies to the streets! This eco-friendly bus drives around L.A. every summer and screens films for free in public locations around L.A. "Angelenos are invited to discover and explore their changing urban landscape when the Filmmobile projects an array of classic films at (actual or implied) cinematic locations across the city."
Here are the films that will be screening in June. The screenings are free and open to everyone, but the locations aren't revealed immediately. Be sure to check their Twitter to find out where these films will be playing.
Friday, June 11 @ 8:00 pm – THE DECAY OF FICTION
Pat O'Neill's haunting meditation on The Ambassador Hotel. "If there were more experimental films as entertaining as "The Decay of Fiction," Pat O'Neill's luminous Hollywood ghost story, the notion of a thriving avant-garde cinema might not be so intimidating to the movie-going public. The 73-minute movie is a semi-abstract film noir shot largely in the empty corridors and bare peeling rooms of the Ambassador, a once-grand Los Angeles hotel that went spectacularly to seed after closing in 1989. The Ambassador was the site of some of the early Academy Awards ceremonies in the 1930's and of the assassination of Robert F. Kennedy." — Stephen Holden, The New York Times INTRODUCTION BY FILMMAKER PAT O'NEILL!
Friday, June 18 @ 8:00 pm – KING KONG
The 1933 classic King Kong, remembered for pioneering special effects using stop motion models and evocative images of the giant gorilla atop the Empire State Building.
Friday, June 25 @ 8:00 pm – LADY SINGS THE BLUES
Tonight's screening is Lady Sings The Blues, the 1972 Billie Holiday biopic starring Diana Ross and Billy Dee Williams.
https://echoparknow.com/wp-content/uploads/2020/04/EPN_Logo_600px.png
0
0
Caitlin
https://echoparknow.com/wp-content/uploads/2020/04/EPN_Logo_600px.png
Caitlin
2010-06-09 12:00:11
2010-06-07 21:09:33
The Echo Park Film Center Filmmobile Returns!