Sunday: Annual Public Fruit Jam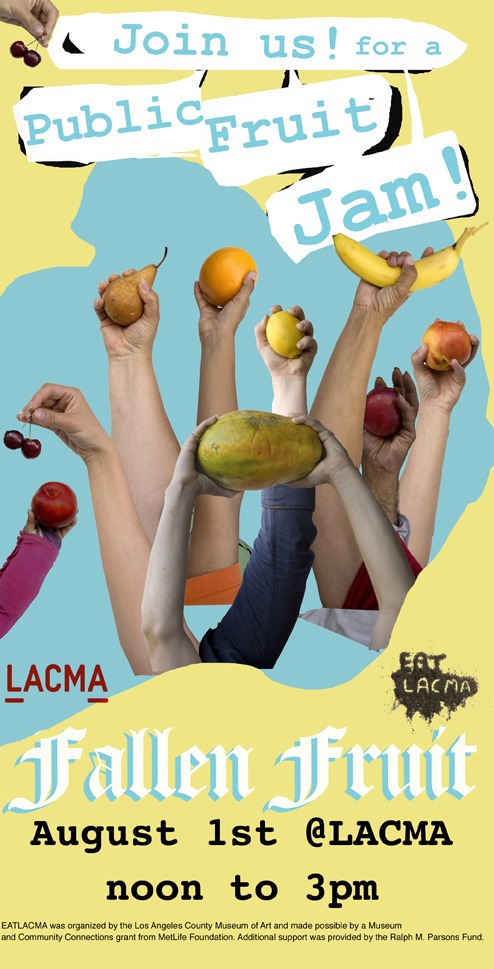 While this event may not necessarily take place in Echo Park, we are an advocated of Fallen Fruit and there are so many fruit trees in Echo Park that we thought you might benefit.
The 5th annual Public Fruit Jam is happening this weekend on Sunday, August 1 from noon – 3:00 pm at LACMA.
Run by Fallen Fruit, the event is for anyone to bring homegrown or street-picked fruit to participate in a collective jam-making session (not the musical kind of jam, the edible kind!). They'll teach you how to make the jam, and you get to bring home a jar of jam.
"Working without recipes, we ask people to sit with others they do not already know and negotiate what kind of jam to make: if I have lemons and you have figs, we'd make lemon fig jam (with lavender). This event highlights the social and public nature of Fallen Fruit's work, and we consider it a collaboration with the public as well as each other."
Meet at the amphitheater behind the museum. Free but space is limited: Tickets will be handed out the day of the event with a limit of 150 per hour from 12:00 noon to 3:00 pm. Tickets are on a first-come, first-served basis; no reservations.
https://echoparknow.com/wp-content/uploads/2020/04/EPN_Logo_600px.png
0
0
Kelly
https://echoparknow.com/wp-content/uploads/2020/04/EPN_Logo_600px.png
Kelly
2010-07-30 08:56:15
2010-07-30 17:04:25
Sunday: Annual Public Fruit Jam