Neighborhood Council updates website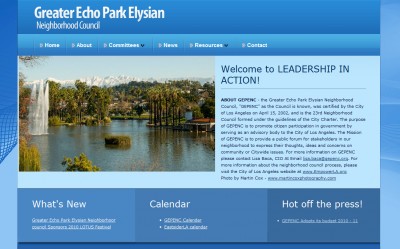 The EPIA launched a new website recently, and GEPENC has also just made some necessary updates.
The URL remains the same (www.gepenc.org), and, according to the press release, some highlights include an entire archive of meeting minutes , agendas, and reports. There are also some useful informational pages that include Standing Rules, Bylaws, the Brown Act, etc.
Some downsides? It doesn't look like any of the archives are currently working yet, so there are some bugs to work out. In addition (now, as a web designer myself, I'm just being nit picky), there are no search functions to find a specific meeting archive topic – you have to click through each archived meeting minute under "Resources" then "Archives."
The email subscription option from the last website has been removed, so you will have to go to the website to find out when the next meeting agenda has been posted. CIO Lisa Baca, however, will email you agenda notifications if you email her at lisa.baca@gepenc.org. There is also a calendar link on the home page that will link you to the Google calendar to help you plan for the next meeting.
https://echoparknow.com/wp-content/uploads/2020/04/EPN_Logo_600px.png
0
0
Kelly
https://echoparknow.com/wp-content/uploads/2020/04/EPN_Logo_600px.png
Kelly
2010-07-30 10:18:05
2010-09-06 10:50:06
Neighborhood Council updates website