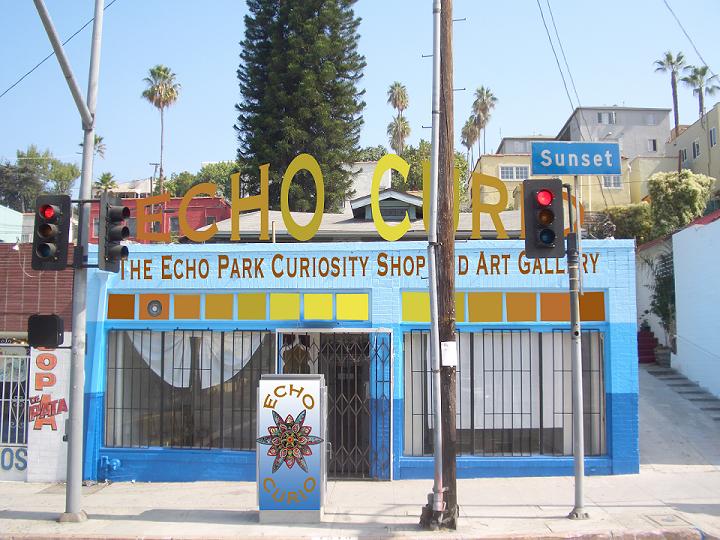 When you go out this weekend to see some awesome shows in Echo Park, don't forget that the Echo Curio is no longer allowing patrons to bring their own booze to the gallery's shows. Last week the curiousity shop tweeted "changes they are a-coming – ECHO CURIO is going to go dry for the time being… no byob in or out of the shop… sorry for inconvenience." This week they confirmed the news with a blog post, saying:
We're now an alcohol-less venue, neither selling nor allowing byob anymore. It is for the greater good, according to the LAPD, so all we can suggest is get your freak on before or after you visit us. Or maybe sneak out in the middle for a quickie… My word!
It seems they were visited by the LAPD on August 9 during a show, and were cited for being a "bottle club." Co-owner Grant Cape told the LA Times music blog Pop & Hiss: "Funny thing was, we had no one drinking outside, no loud music playing, and maybe five adults drinking inside." Either way, patrons had to poor out what drinks they did have (for quite a few months now, the Curio hasn't allowed drinking outside).
So is this the future of venues like Echo Curio, where BYOB or a cooler of Colt 45 will be a critical concern of neighbors and the LAPD? It's becoming such a common (and expected) part of the "speakeasy" shows in LA, especially in areas like Silver Lake and Echo Park. What once started as an innovative way to bring customers into an art gallery or a record store, now might be a problem. The Echo Curio isn't as concerned, Cap told the LA Times, "[This] will make it harder to get a crowd, I think, but we'll see."
https://echoparknow.com/wp-content/uploads/2020/04/EPN_Logo_600px.png
0
0
Kelly
https://echoparknow.com/wp-content/uploads/2020/04/EPN_Logo_600px.png
Kelly
2010-08-20 21:06:00
2010-08-20 22:30:54
Echo Curio nixes BYOB