Loft living in Echo Park: Definitely a trend
Another high density live/work loft building in Echo Park, this one about to open up at 1030 Alvarado (just south of Sunset). Echo 1030, according to the website, is the "newest, greenest, and most contemporary live/work loft units for lease in Los Angeles." The 20 units just next door to the Alvarado car wash actually do sound pretty nice: 18-foot vaulted ceilings, central heat and AC, solar reflective windows, and more. What makes them "green" is that it's LEED Certified. But how long will the development fair and will they be able to sell the lofts?
More importantly, there is an empty lot at Chicken Corner, the Durbin project, that has been undeveloped for quite some time now. Sunset Five on Sunset Blvd. and Portia was having some trouble selling its lofts when it first opened. Developers want to build a 64-unit complex on Sunset and Rosemont, and there's also an eight-unit live/work loft unit proposed for Echo Park Ave. and Avalon Street.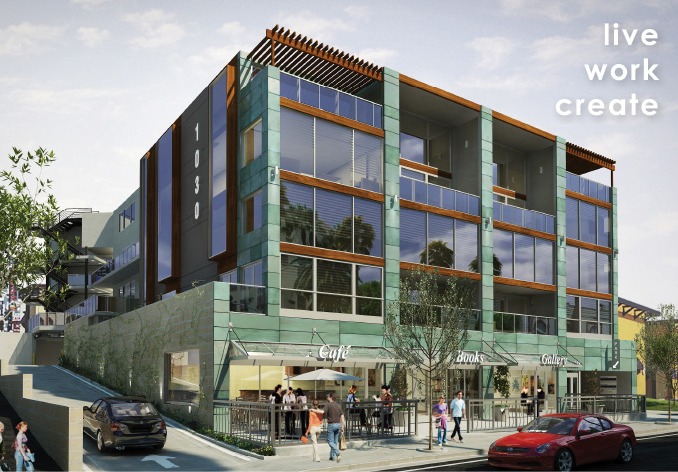 Just why might we be seeing so many developments of this kind in Echo Park these days? Darren Hubert, a local real estate agent, makes a good point. "They build them here because there is a group of residents in Echo Park that appreciate and will live and work in them.  We have one of the strongest arts communities in the city. We are on the cutting edge of the Urban movement in a city that was build around its suburbs. In Echo Park you still have a sense of community, a walking district, and parks close by. It is the best of what Urban LA has to offer yet you still have a community to be a part of." And a strong community it is!
While Echo Park-ians (rather, me) certainly welcome the "green" living movement, we tend to be more of a makeshift gray water system, self-installed solar panel type of neighborhood. Sustainable living doesn't always have to mean brand-new and dense residential structures, and naturally I'm a fan of the California bungalows around Echo Park. But now that's it's up and built – someone, someday, will take a look at 1030 Alvarado and say, "That's were I want to live slash work!"
https://echoparknow.com/wp-content/uploads/2020/04/EPN_Logo_600px.png
0
0
Kelly
https://echoparknow.com/wp-content/uploads/2020/04/EPN_Logo_600px.png
Kelly
2010-08-26 11:58:20
2010-08-26 11:58:20
Loft living in Echo Park: Definitely a trend