Flashback Fridays – Timothy Fonseca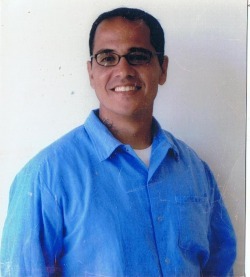 This story can not really be considered Echo Park history as it is still not over. Timothy Fonseca was convicted and is still serving a 35 years to life sentence for murder based on shaky evidence. But I wanted to post something about him, and this seemed like the best way to do it.
On April 23rd, 1995 at about 4:00 am, Arthur Mayer was coming back from a party with his wife, Roxana, when he stopped to buy cigarettes at the Mobil Station on Scott and Glendale. While he was walking back to the car, Mayer was shot and killed. Roxana would later state that the shot was fired by a man standing at the 1900 block of Scott Ave. She identified Fonseca in a police lineup as the shooter. This is pretty much the only evidence the police had with which to convict Fonseca. However, Roxana had identified a different man in an earlier lineup as the shooter and even admitted that he and Fonseca looked very much alike. Also, the 1900 block of Scott Avenue (where the shooter was standing) is about 300 yards away from where Roxana was sitting in the car. That's a big distance from which to make an identification, especially when it's dark outside. Her story also changed several times. Details that varied included the number of shooters, where they were standing and what kind of firearms they were brandishing.
Another piece of evidence was the testimony of a young Echo Park gang member who said that on the day of shooting he had seen a gang member named Sniper carrying an AK-47. He later said that "Sniper" was Tim Fonseca. When the case went to trial, the young man recanted everything he had said stating that the police officers had threatened him into making an identification. Furthermore, he did not even witness the crime.
There was never any physical evidence linking Tim Fonseca to the murder. A possible murder weapon (an SKS rifle) was found behind a house on Scott Ave. There were prints on the weapon, but they were not Tim Fonseca's.
Tim has been in prison for fifteen years and still proclaims his innocence. He says that he was in San Bernardino on the night of the shooting. Tim's wife, Lynn, is still fighting to free her husband. Ironically, she used to work for the Indio and Palm Springs Police Departments. His case has gained the interest of high-profile legal organizations such as the Innocence Project. In 2008, he was also written about in the AIDWC (Association in Defense of the Wrongly Convicted) Journal (the article is in the Spring 2008 issue). Check out Tim's website if you're interested in learning more.
https://echoparknow.com/wp-content/uploads/2020/04/EPN_Logo_600px.png
0
0
Caitlin
https://echoparknow.com/wp-content/uploads/2020/04/EPN_Logo_600px.png
Caitlin
2010-09-10 18:23:29
2010-09-10 18:24:19
Flashback Fridays – Timothy Fonseca