Echo Curio runs out of luck getting permitted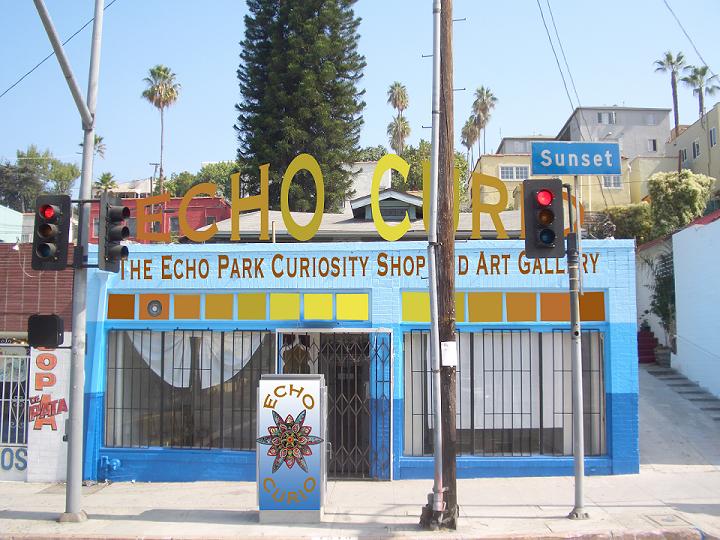 After a few weeks of trying to get a Cafe-Entertainment license in order for the space to host music shows on a regular basis, it looks like the Echo Curio might have run out of luck as an entertainment venue.
According to the Echo Curio blog, after attending orientation meetings and running around the Department of Building and Safety building, owners Grant Capes and Justin McInteer learned that not only is the building zoned for Retail, but the zoning excludes them from getting the necessary Cafe-Entertainment license.
The next step? Major reconstruction on the bathroom in order to qualify for a change in zoning, as well as providing parking spaces for the venue. Or, "we can accept and not do music performances and try to eek by on the art and record sales (which is sadly not going to happen, we blame you, ECONOMY!)," said the owners on their blog post.
With the costs of construction and obvious limitations in providing parking spaces (valet service at the Curio? Doesn't quite fit), the owners are seriously considering closing the Echo Curio at the end of the year. Anyone interested in partnering with the Echo Curio to host shows, etc. should contact them directly.
In the meantime, check out some art shows and other things happening at the Curio before the doors close:
Thursday, October 21 from 8:00 pm – midnight: Geoff Geis' wonderfully subversive "Obamaporn" art show and think-a-thon.
Saturday, October 23 at Human Resources: Exquisite Corpse workshop followed by an all-acoustic show. More info here.
Sunday, October 24 at 9:00 pm at F Haus: Green Machine curated smokeathon, Sean McCann, Justin McInteer and Grant Capes, Gui Barra, and more
We don't want the shows to end at Echo Curio – wish there was something we could do?!
https://echoparknow.com/wp-content/uploads/2020/04/EPN_Logo_600px.png
0
0
Kelly
https://echoparknow.com/wp-content/uploads/2020/04/EPN_Logo_600px.png
Kelly
2010-10-21 11:06:21
2010-10-21 11:06:21
Echo Curio runs out of luck getting permitted