Mooi scales back hours for dinner service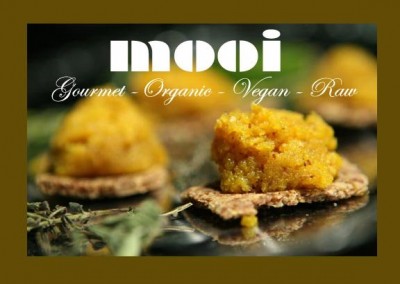 Looks like Mooi will no longer be operating for dinner during normal restaurant/business hours on a daily basis. Instead, they'll be open for dinner on Fridays for a set 5-7 course menu, and will be busy with the catering side of the business through the holidays.
Owner Stephen Hauptfuhr told vegan blogging queen Quarry Girl:
Currently we have been operating under non-regular hours, meaning we are not open for regular dinner service on a daily basis as before, we are open every Friday for a set prix fixe 5-7 course menu that changes each week from Stephen Hauptfuhr and occasional collaborations with guest chefs… if you would like to be made aware of these dinners and any other times we will be open, please email stephen@mooifood.com with the subject heading 'email list request' and you will be added to his private list to receive these messages..
To get updates on the Friday menus, find Mooi on Facebook and Twitter. Make sure you place your special orders for the holiday soon – they are offering cakes, ice cream, and any regular menu items.
Tomorrow's vegan, organic and raw Friday menu includes: butternut squash apple coconut soup, belgian endive, romain and asian pear salad with mustard seed vinaigrette, cauliflower mash potatoes and marinated asparagus, portabello meatloaf with plum ketchup, and pumpkin pie. Sounds yummy!
Cost is $20 per person with an RSVP, $25 for walk-ins. Don't forget to RSVP to stephen@mooifood.com
https://echoparknow.com/wp-content/uploads/2020/04/EPN_Logo_600px.png
0
0
Kelly
https://echoparknow.com/wp-content/uploads/2020/04/EPN_Logo_600px.png
Kelly
2010-10-28 11:38:42
2010-10-28 11:38:42
Mooi scales back hours for dinner service