Charles Fleming book signing at Stories Books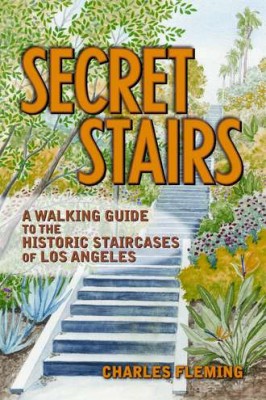 This is a book that's on our holiday wish list this year – Charles Fleming's Secret Stairs: A Walking Guide to the Historic Staircases of Los Angeles, published in April this year. And, you guessed it, Echo Park is among the guide's hidden stairways, and include an Echo Park Lake Victorians walk, Laveta Terrace (one of my faves), Magic Gas (the Delta Stairway, we think), Avalon-Baxter Loop, Allessandro Loop, and Fellowship Park.
This weekend, on Saturday, November 6, Charles "Dancing With the Stairs" Fleming himself will be at Stories Books and Cafe for a Secret Stairs book signing. Before the signing, however, anyone is welcome to join Stories on a Walking Tour (we're not exactly sure if Charles will be leading the tour, but probably) of some of the hidden stairways covered in the book. The signing after the walking tour will include coffee, cookies, cheese, wine and, of course, books! Buy your copy of Secret Stairs and get it signed.
Walking Tour
3:30 pm – 4:30 pm (ish)
Meet at Sunset Blvd. and Lemoyne Street
Difficulty: "3"
Book Signing
Immediately following the Walking Tour until 10:00 pm
Refreshments served
Check out our interactive map of Echo Park stairways.
https://echoparknow.com/wp-content/uploads/2020/04/EPN_Logo_600px.png
0
0
Kelly
https://echoparknow.com/wp-content/uploads/2020/04/EPN_Logo_600px.png
Kelly
2010-11-04 11:44:09
2010-11-04 11:44:09
Charles Fleming book signing at Stories Books