Monday Menu: Allston Yacht Club's holiday libations
Hopefully things are starting to wind down at the office as the Christmas holiday approaches, so it's time to start taking out your employees, employers, and/or clients for some holiday libations. Allston Yacht Club in Echo Park has a great selection of not just wine and beer, but also spirits.
You say tequila, I say tequillllllla

Take, for example, the most excellent jalapeño margarita, which I wrote about in my best-of margarita article last September. Starting tonight, AYC is adding Tequila Tuesday to its weekly specials, where you can get any tequila beverage for just $6 all night.
The spicy margarita is included with the special, along with the Basement Window (tequila, Kahlua, pomegranate and lemon) and their newest concoction, the Hipster's Holiday (tequila, pomegranate molasses, almond syrup, bitters and ginger beer). Or you can try the "TT combo," a shot of tequila plus a housemade sangrita chaser, also for $6.
Mellow holiday drinks

If tequila isn't your thing, try the Baci ("kiss" in Italian), a cocktail with vodka, chocolate liqueur, Frangelico, chocolate-covered hazelnuts, and rimmed with a sugar/cinnamon/cocoa powder/allspice mix.
There's also the Accursed Fruitcake, served on ice but will warm your tummy with brandy, gold rum, apple cider and "inebriated fruits."
Couch potato?

If you prefer to stay at home, you can try mixing up those last two on your own by checking out the recipes after the jump. Just make sure you give AYC the credit.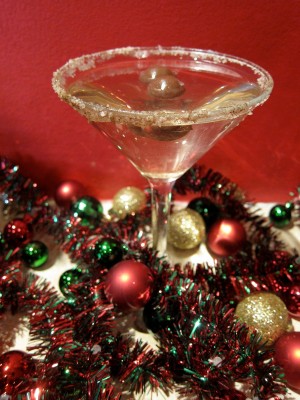 Baci
1 1/2 oz Vodka
1/2 oz Chocolate Liquer
1/2 oz Frangelico (or Amaretto, a fine substitute)
Chocolate covered hazelnuts*
Sugar mixed with cinnamon, cocoa powder and allspice for
coating the rim of the glass
Ice a shaker and add the liquors.  Shake and strain into a sugared martini glass. Add two of the Hazelnuts.
*AYC roasts Hazelnuts and temper chocolate to coat them It is a lot of work.  You can do it too, or you can buy pre-made Baci almost anywhere during the holidays (although they're gigantic) or, in a pinch, throw in a couple of Whoppers. It will still be delicious.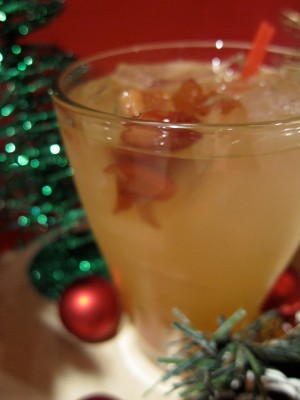 The Accursed Fruitcake
Into an iced highball glass add:
1 oz Brandy
1 oz Gold Rum
1 Tbs Inebriated Fruit
Top with Apple Cider
Stir and serve
AYC starts the fruits six months in advance, but do not lament. Gather some combination of dried Cranberries, Cherries, Apricots, Blueberries, Peaches, Candied Ginger, White and Dark Raisins. Chop the big pieces and soak for 10 minutes in boiling water. Drain and pour the fruit into a glass container.
Add ¼ cup of sugar for every pound (a pound will make dozens and dozens of drinks, but you'll have leftovers for next year) of fruit. Add a few cinnamon sticks, a couple of cloves, an allspice etc. Cover with brandy and let sit until needed.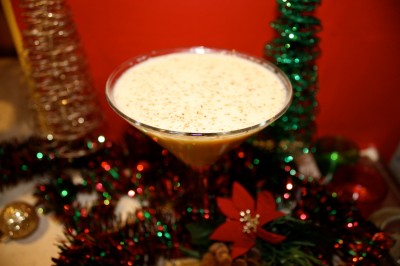 Figgy Pudding
1 1/2 oz Fig Infused Bourbon
1/2 oz Egg White
1 1/2 oz Egg Nog
Put it all into a cocktail shaker and shake the dickens out of it. Do not ice the shaker or it will prevent the egg white from fluffing up. Then ice the drink and strain into a martini glass. Grate some nutmeg on top.
Fig Infused Bourbon
12 oz dried figs
1/2 cup Sugar
2 Bottles Bourbon
Chop the figs roughly, add to the bourbon and sugar. Use two bottles of bourbon, you can make Old Fashioneds from any leftovers. That recipe you can get anywhere, although AYC likes to do a shake of bitters and a shake of sweet vermouth.
Photos courtesy of AYC.
Allston Yacht Club is located at 1320 Echo Park Ave.
https://echoparknow.com/wp-content/uploads/2020/04/EPN_Logo_600px.png
0
0
Kelly
https://echoparknow.com/wp-content/uploads/2020/04/EPN_Logo_600px.png
Kelly
2010-12-20 17:22:04
2010-12-21 15:30:05
Monday Menu: Allston Yacht Club's holiday libations