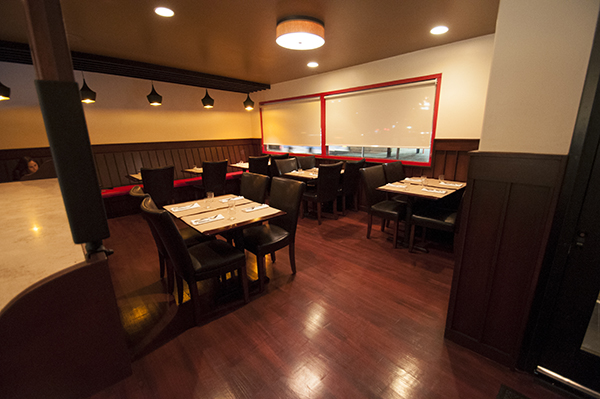 Not too long ago owners Charles Kelly and Bill Didonna closed Echo Park Avenue restaurant Allston Yacht Club, and tonight is much-anticipated debut of the duo's new restaurant, Allumette.
French for "matchstick," Allumette is certainly going to "light up" the Echo Park dining scene with a destination for foodies and even budding foodies (like myself). Even after the months of renovations, any AYC fan would recognize the space. But new lighting dark wood, and partitions separating the dining areas give it a new more "serious" vibe to accompany the epicurial menu, composed of small tasting plates with a seasonal focus.
Led by chef Miles Thompson (formerly of the pop-up Vagrancy Project at AYC, among others), the food is both adventurous and accessible. The Fried Oyster comes decorated with Kimchi ranch dressing and a deliciously crunchy Asian Pear mignonette that bursts of flavor with each bite. The Bitter Lettuce dish is simple and un-fussy, the smoked soy cream a unique dressing and a tasty starter. The Grilled Octopus with a sour apple syrup drizzled on top is so not the rubbery stuff of failed Octopus dishes of my past experience at other restaurants. And the Boneless Whole Sea Bream with bouillabaisse sauce – a $40 dish but a meal for two – is any seafood lovers dream.
If the fancy food isn't enough, there's a fancy (also accessible) drink menu to boot. Designed by bartender extraordinaire Serena Herrick from Harvard & Stone, the cocktail list is eccentric (but not in a bad way!). If you like bitters, try the Last Ango with Angostura Bitters, rum, Orgeat, pineapple gomme, and lime – it is heavenly. For a hot day, Red Letter Day is light and refreshing with rum, vermouth, Orgeat, lemon, soda water and Yuzu bitters. To warm up your insides, try the Smoking Gun with Mexcal, Cynar and Calisaya, and a brandy-soaked cherry at the bottom. Another favorite is the You Live Only Twice, which has both Sake and Gin, tangerine, peppercorns, and lime.
And for dessert, the Cheesecake Mousse will thrill any palette, but there's also Red Velvet Cake and Citrus Curd.
In terms of what to expect, vegetarians and the un-adventurous beware – if you're not willing to break any rules (or in my case, secretly looking up some definitions on my smart phone under the table), this might not be the place for you. There are only 15 dishes, and limited seating at only 30 guests per evening, and substitutions are "politely declined." If you're expecting to be wined and dined, you won't be disappointed.
Time will tell if Echo Park is ready for a such an epicurean dining adventure, and we hope Allumette is here to stay. As Zagat put it so nicely earlier today, "If Jonathan Gold thinks the local hipsters are taking to Cortez in droves, that restaurant has met its match."
Allumette is located at 1320 Echo Park Ave. Call (213) 935-8787 for reservations (recommended). Open at 6:00 pm, Tuesday through Sunday.
More photos after the jump!
https://echoparknow.com/wp-content/uploads/2020/04/EPN_Logo_600px.png
0
0
Kelly
https://echoparknow.com/wp-content/uploads/2020/04/EPN_Logo_600px.png
Kelly
2013-01-31 17:07:48
2013-02-04 10:06:29
Allumette opens today in Echo Park