Echo Park Night at Dodger Stadium smoked out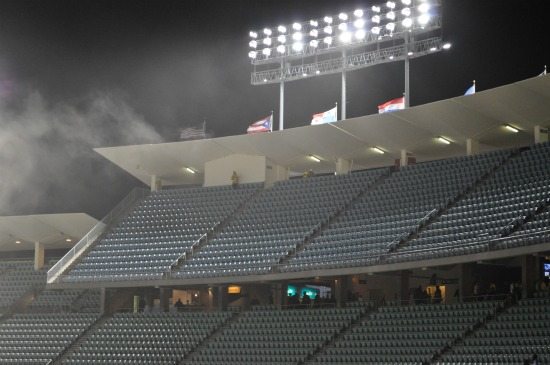 So we're at the Echo Park Night at Dodger Stadium on the Reserve level, enjoying talking to locals like Bennett Kayser (who just won a School Board seat the other day), neighbors, and other EPIA members when all of a sudden this plume of smoke comes barreling down on us. Not too long after, an officer announces to our section that we should all move seats toward the other part of the stadium.
As it turns out, a "cinder block storage room away from public" on the upper level had caught fire, according to the LA Times. Thankfully, there was a helicopter nearby to shine its big bright light on the smoke. Soon thereafter, firefighters arrived – but at the 7th inning, the crowd was distracted, confused, and the Dodgers were losing 6-1 to the Marlins.
According to the announcement at the Stadium (just before we left due to the choking burnt plastic smell), the fire was under control. Thankfully, no panicking, no evacuation, but the Dodgers couldn't pull it through. Hopefully the next Echo Park night out will be more successful!
https://echoparknow.com/wp-content/uploads/2020/04/EPN_Logo_600px.png
0
0
Kelly
https://echoparknow.com/wp-content/uploads/2020/04/EPN_Logo_600px.png
Kelly
2011-05-28 22:21:10
2011-05-28 22:21:10
Echo Park Night at Dodger Stadium smoked out