Echo Park rules: LA Weekly's Best of LA list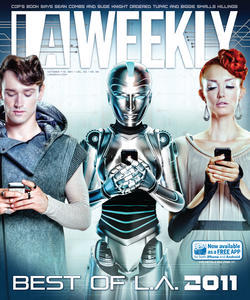 We all know it: Echo Park is the raddest. But it's nice to get a little acknowledgment – LA Weekly's Best of LA 2011 is out, and once again, we've got quite a few locations in our 'hood to celebrate.
Keep reading what Echo Park businesses and locations made the Best of LA cut:
Spitfire Girl: Best Ironic Baubles for a Best Friend
Located along our stretch of Echo Park known as antique row, Spitfire Girl gets kudos for being a "more authentic version of Urban Outfitters' indie accessories department." From horses and owl-themed products to art books, jewelry, and woodcut wall art, LA Weekly recommends a stop as "you should have no trouble finding a unique gift for any lover of irony or beauty." We have to admit we've never been to Spitfire Girl… we will definitely go now!
LA Weekly link
2203 Sunset Blvd. • (213) 989-1977 • spitfiregirl.com
Rewind Audio: Best Electronics That Don't Fit in a Pocket
Audio geeks rejoice: "This is not the insanely priced stuff sought by audiophiles but great, quotidian, mainstream electronics…" says The LA Weekly.
Even better? "Their pristine little Echo Park shop attracts a steady stream of people in their 20s seeking a retro look and electronic equipment that's fun to touch, as well as a 40s-and-up clientele who miss the richer sounds often lost to digital.
LA Weekly link
1041 N. Alvarado St. • (213) 273-8904 • rewindaudio.com
Triple Chicken Foot: Best Folk Band
Though not necessarily an Echo Park band, the "fiddle-banjo-guitar trio" plays at 1642 Beer and Wine at the Echo Park/Hi Fi border on the first Thursday of each month, also known as the Old-Time Open Jam.
LA Weekly link
Triple Chicken Foot at 1642 Temple St. • (213) 989-6836 • triplechickenfoot.com
Carroll Avenue: Best Street to Step Back in Time
We're not surprised this Angelino Heights street would take the crown for this People and Places category. Carroll Avenue is one of our favorite places to take a stroll through and show off to out-of-town family (especially the ones that don't "get" LA). LA Weekly describes it best: "The Echo Park–adjacent avenue is dotted with beautifully maintained Victorian manors from the late 19th century. Located in one of the oldest neighborhoods in L.A., these are storybook homes with intricate architecture and colorful stained-glass windows."
Corralitas Red Car Property: Best Potentially Haunted Hiking Trail
Not only is the blog by that same name one of our faves, Corralitas Red Car Property is a a great Echo Park-adjacent trail to explore – we recommed Walk #23 (aka the Astro Loop) in Charles Fleming's Secret Stairs book to get a little taste of this history.
But in this context, the LA Weekly sees it as a bit of a spooky hike, where the Pacific Electric Streetcar line once ran through. "Bordered on both sides by the skeletons of abandoned cars and old machinery, the public trail near the old rail is as creepy as it is cool. Relics of the big red cars are still visible: Heavy stones mark the spot where a massive bridge once stood, and you can see the steps where riders lined up to board. Wild flora block the sound of city traffic, making it that much easier to hear disgruntled spirits grumbling as they wait for the next train to arrive."
LA Weekly link
redcarproperty.blogspot.com
Elysian Park: Best Wildflower Trail Above the Freeway
I am personally voting this as the next thing to do for the first time: hike the 2.8 mile Elysian Park Wildflower Trail. "It's country-meets-city: Bird tweets win out over the dull roar of the 5 freeway, a sound that simply fades to white noise. On a clear day there are great views of the distant Verdugo and San Gabriel mountains, and you can peer down at cars packed on the 5. It gives you an instant lift, knowing you're not down there but up among the wildflowers."
LA Weekly link
1025 Elysian Park Drive • Park by the Grace E. Simmons Lodge and look for a white fire-road gate for the trailhead
The Classroom L.A.: Best Place to Revive Your Vintage Store Finds
Yay for The Classroom! We took a little terrarium making class, and had a blast. There's also sewing classes, jewelry making, and papier-mache. "The tiny space is the love child of Echo Park's king of vintage, Justin Warwick, and local behavioral therapist Kelsey Wintringham. If the Sunset Boulevard cottage is over occupancy, students head a few skips down the road to the Classroom L.A.'s sister location, The Warehouse. The giant vintage clothing store welcomes the crafty classmates to get inspired by the retro ware that surrounds them; it's a fashionable happily ever after."
LA Weekly link
1269 W. Sunset Blvd. • (213) 375-4066 • theclassroomla.com
House of Intuition: Best Recharging, Balancing, Etc.
"You'd be hard-pressed to find a metaphysical center more genuine than this Eastside oasis, which [owner Marlene] Vargas rightly describes as a 'spiritual detox center' for the seeker and the cynic alike." Cleanse your aura, charge your batteries, drink tea, balance your chakra, get a tarot reading, and more!
LA Weekly link
2237 W. Sunset Blvd. • (213) 413-8300 • houseofintuitionla.com
Echo Park Deep Swimming Pool: Best Adult Swimming Pool for Going Deep
Here's one thing you probably didn't know, there are "adults only" hours on weekdays (early morning) and weekends during lunch at the Echo Park pool. There's even an adult night on Friday nights, "where instead of socializing by a bar you can socialize next to the pool, bringing new meaning to the term 'pool shark.'"
LA Weekly link
1419 Colton St. • (213) 481-2640 • laparks.org/dos/aquatic/facility/echoParkPool.htm
Click here to see what Echo Park businesses and locations made the cut last year.
https://echoparknow.com/wp-content/uploads/2020/04/EPN_Logo_600px.png
0
0
Kelly
https://echoparknow.com/wp-content/uploads/2020/04/EPN_Logo_600px.png
Kelly
2011-10-10 09:00:44
2011-10-09 16:37:55
Echo Park rules: LA Weekly's Best of LA list