Echo Park resident crafts his own spooky Halloween decorations
As an overworked adult these days, it's easy to forget about the Halloween holiday. Not to mention, there are fewer decorations than the days of growing up in a small town, our mini suburbs full of kids trick-or-treating and haunted houses (remember the house that gave out full-size candy bars?!). Thankfully, however, we've got our very own resident bringing the Halloween spirit alive to one pocket of Echo Park.
I first noticed this house a few years ago when I lived in a dark little apartment across the street, my first Echo Park pad. As the Halloween holiday approached, we watched as an enormous figure took shape in front of our neighbor's home, its giant arms reaching out over the sidewalk and a vague grotesque expression on its face. It was completely made out of paper and tape, surprisingly surviving our street and the weather. It turns out the papier-mâché figure was one of many, and certainly not the last.
Hoping to catch a glimpse of more of these figures, we met up with the artist himself, Glenn Hill. He's lived in his Echo Park home on Douglas Street near Beverly Boulevard for about nine years now. Five or six years ago, he started hosting Halloween parties for fellow 12-step program members at his home – and what would a Halloween party be without decorations?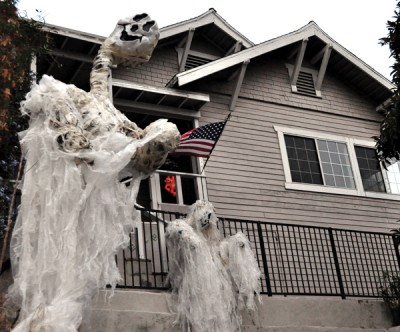 So he started putting up Halloween decorations – but these are no ordinary decorations, and you certainly can't find them at the local Walgreen's. Glenn creates the figures out of recycled newspaper, tape and plastic – anything he's got laying around, or donated by his neighbors, is contributed to the decorations.
In past years, neighborhood kids would come up the street to watch him forming the newest creation. Although he didn't do any decorations last year, and though he's not holding a party this year, questions by neighbor kids and a pile of plastic donated by the Dream Center prompted Glenn to make the Halloween decorations this year.
Glenn doesn't make any of his decorations gory, although you have to admit they are a little… creepy. "Halloween is not a pretty holiday like Christmas is," he said, "you can do anything you want with Halloween."
He considers making these over-sized papier-mâché monsters therapeutic. The papier-mâché is self-taught – he has an art background but no professional training so to speak. When he started in 2003, the creatures got bigger and bigger, and more creative. "I have no design when I start. I give birth to each from a single sheet of paper."
Surprisingly, no one ever messes with them – they've never been stolen or defaced, rather the neighborhood respects Glenn and his work.
His favorite piece? He doesn't have one! Collectively, they are all his favorite. He sees it as a "way of connecting back to the community that helped me."
When I was first there to interview Glenn, he had one big piece up. The next week he had another. By the time you read this, who knows – maybe he'll have even more! Which means you'll have to check it out on your own before the end of the Halloween holiday. Glenn's house is on Douglas Street, between Colton Street and Beverly Boulevard near the Echo Park Pool. His house is hard to miss!
I wrote this article for the October-November issue of the Echo Park Improvement Association newsletter, the EPIAn Ways. Click here to view a digital version of the full issue.
https://echoparknow.com/wp-content/uploads/2020/04/EPN_Logo_600px.png
0
0
Kelly
https://echoparknow.com/wp-content/uploads/2020/04/EPN_Logo_600px.png
Kelly
2011-10-11 17:10:26
2011-10-11 17:10:26
Echo Park resident crafts his own spooky Halloween decorations