Flashback Fridays – The Ukrainian Orthodox Church on Sutherland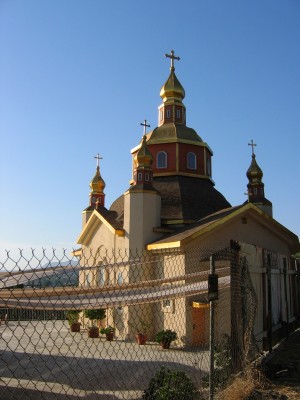 It's probably caught your eye at some point while strolling around the neighborhood: a golden rooftop situated near the top of that one hill, elusive, not visible from just anywhere. Well, I hate to spoil the mystery for you, but it's the St. Andrew Ukrainian Orthodox Church, and it's located at 1456 Sutherland Street. Sutherland is one of the steeper streets in Echo Park, but I recommend walking up it in order to see this fine piece of religious architecture. Or you can just sneak a peak at it from that grassy area at the top of Douglas and Quintero (see photo above).
Echo Park seems like an odd place for a Ukrainian Orthodox church to be located until you realize that Echo Park has always been a haven for outsiders, free-thinkers, artists, bohemians and even refugees from other countries. Below is some of the text from a Los Angeles Times* article that I found from December 16, 1957 commemorating the dedication of the church.
On an Echo Park district hill in a converted mansion yesterday people jammed tightly into a 20 x 20 foot room and stood for two hours. The ceremonies were performed in the little St. Andrew's Church of the Ukrainian Orthodox Church at 1456 Sutherland St. Its membership includes only 85 families.

This one had escaped from Siberia through China. That one and his wife had fled to the West. The next one had seen his parents shot. This teen-ager had been baptized in the Ukraine at the risk of his parents' lives. Still another was the last member of a large family – the only one to live through both Communist and Nazi persecution. The church was started principally with refugee members seven years ago in a rented hall. Four years ago the congregation bought the outdated mansion for $20,000, and since then has rebuilt it into a church.
The church's website also contains lots of information on Ukrainian culture and history. I recommend checking it out if you're interested in world history. I had never heard of the Holodomor before.
*All Los Angeles Times newspapers from 1881 to 1986 have been scanned and are searchable, viewable and printable from any computer at the LA Public Library!
https://echoparknow.com/wp-content/uploads/2020/04/EPN_Logo_600px.png
0
0
Caitlin
https://echoparknow.com/wp-content/uploads/2020/04/EPN_Logo_600px.png
Caitlin
2010-05-14 11:00:04
2010-05-13 21:05:30
Flashback Fridays – The Ukrainian Orthodox Church on Sutherland