Mooi serves up some delicious vegan events for September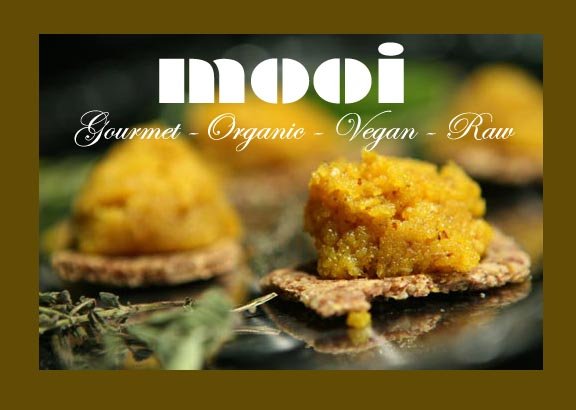 Mooi is offering quite a few treats for us in the month of September, including a raw food seminar, speaking events, and a guest chef night. Here's the low-down:
Tonight is the first night for a free raw food seminar by Lou Corona to be held every Thursday of September from 7-10:30 pm (we've heard food will be served!). Lou's seminar is about raw food and his 38-year experience as a "raw living foodist." He'll be teachin the "4 principles" that have helped transformed his life. You don't need to RSVP, and it's free!
On Saturday, September 11, Mooi will host a guest chef with BeLive ("gourmet raw living culinary artist and visionary").
On Friday, September 17, Mooi will host an event called "Farm of Life," where guest speakers Brian and Jody Calvi talk about healing sickness and disease through a raw food diet, as well as their experiences on a raw vegan organic farm in Costa Rica. There will be two showings, one at 7:00 pm and one at 9:00 pm. The event is free! Go to www.farmoflifecr.com to learn more.
And, of course, every Tuesday from 3-5:00 pm Mooi is the pickup location for CSA subscribers.
Keep your eyes peeled, Mooi is also planning some film nights art shows, and more!
Mooi is located at 1700 W. Sunset Blvd.
https://echoparknow.com/wp-content/uploads/2020/04/EPN_Logo_600px.png
0
0
Kelly
https://echoparknow.com/wp-content/uploads/2020/04/EPN_Logo_600px.png
Kelly
2010-09-02 16:59:35
2010-09-02 16:59:35
Mooi serves up some delicious vegan events for September