Lotus Festival schedule for today, Saturday
We headed down to Echo Park Lake early to get ahold of the Lotus Festival schedule, which is available to anyone at the information booth in the middle of the festival booths. After the jump: Saturday's schedule and parking tips. You can read about the history of the Lotus Festival by clicking here.
Opening ceremony started at noon, but here's the rest of the schedule (Sunday's schedule will be available tomorrow):
2:00 pm: The Muay Thai School
Thai Boxing Demo
2:30 pm: Na Kapa Ku Hual Halau Kula Nui 'O Kaleponi
Hawaiian and Polynesian music and dance
3:00 pm: Pacific Asian Club
Chinese, Japanese, Hawaiian and Filipino Dances
3:30 pm: Wat Thai Temple of Los Angeles
Thai Rabam Dravat dance Mon style
3:40 pm: Shaolin Temple Kung Fu School
Chinese Lion and Dragon Dance
4:10 pm: Lan Satha Thai Dance
Waewdoa's traditional dance, representing Northern Thai culture
4:40 pm: Neutoniks
Asian, African-American, Hispanic Dances
5:00 pm: Teatro Kandusay
An all-Filipino theatre group and TROPA
5:30 pm: The Aliso Pico Dancers
Jazz dance from the Broadway play Chicago – All That Jazz
6:00 pm: Ku'uipo 'O Hula
Hula, Tahitian and Maon Dances
6:30 pm: The Nightmares
Four pieces of musical group includes folk, psychedelic, rock, and bossa nova
7:00 pm: Norther Shaolim Kung Fu Association
Chinese Martial Art, Chinese weaponry demo and lion and dragon dances
7:30 pm: Big Bertha
Japanese pop/rock band with singer "Kazue"
8:00 pm: Sharp Three
A unique mixture of Asian and Western jazz styles injected with Progressive twists and classical reflections
8:30 pm: Xkrima CQC Institute
Traditional arts of Filipino stick fighting
And the big question is always: Will there be fireworks this year?? They didn't last year, but we will find out. Follow us on Twitter and we'll announce the info as soon as we learn more!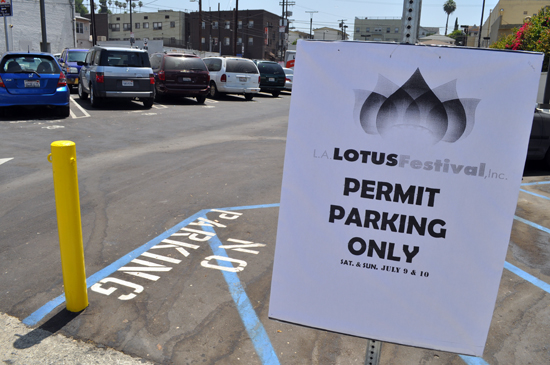 It appears two of the public parking lots in Echo Park (there are three lots behind Sunset) are restricted, permit parking only. The signs are confusing and not well-placed so keep a sharp eye out for them.In past years they've used the elementary schools nearby, so we're not sure why they'd take up the public parking options.
Street parking is available but minimal – you're better off parking on Glendale Boulevard or, though the neighbors aren't fond of it, in the surrounding neighborhoods.
Better yet – walk! If you're in the 'hood grab some ice water, a hat or an umbrella, and a fan (it's hot out there!) and truck it using your own two legs.
See you there!
https://echoparknow.com/wp-content/uploads/2020/04/EPN_Logo_600px.png
0
0
Kelly
https://echoparknow.com/wp-content/uploads/2020/04/EPN_Logo_600px.png
Kelly
2011-07-09 13:29:16
2011-07-09 13:29:16
Lotus Festival schedule for today, Saturday